Homemade Banana Bread Recipe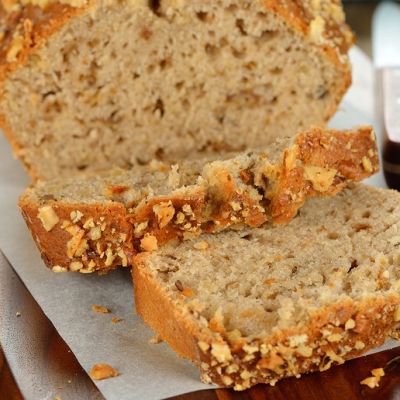 This homemade banana bread recipe starts off with cooked bananas and is so full of flavor. It may just be the only recipe you ever need for this bread again.
Ingredients
5 bananas, peels on
2 cups all purpose flour
1 1/2 teaspoons baking powder
1/2 teaspoon baking soda
1/2 teaspoon cinnamon
1/4 teaspoon nutmeg
1/2 teaspoon salt
2 eggs, lightly beaten
3/4 cup granulated sugar
1/2 cup vegetable oil, or melted butter
1/2 cup chopped walnuts
Directions
Preheat oven to 350F.
Line a baking pan with foil.
Arrange bananas in pan and prick the peel with a fork every 1 inch.
Bake for 20 minutes and remove from oven to let cool.
Grease a 9x5 inch baking loaf with butter or oil.
In a medium bowl stir in eggs, sugar and oil.
Use sharp knife to peel the cooked bananas and press them into a measuring cup to get 1 1/2 cups of mashed bananas.
Stir bananas into egg mixture and set aside.
In a large bowl mix flour, baking powder, baking soda, cinnamon, nutmeg and salt.
Make a well in the center.
Pour wet mixture into flour well and stir until just moistened.
Fold in half the chopped walnuts.
Pour batter into pan.
Bake for 55-60 minutes.
At the 40 minutes mark open the oven and carefully add the remaining chopped walnuts.
Bake until a knife inserted into the center comes out clean.
Cool in pan and keep airtight if there is any leftover.