Homemade Bread Bowls Recipe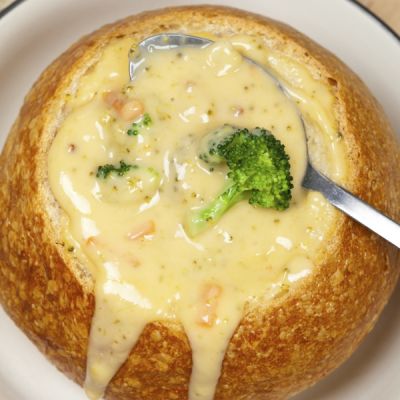 Ever wonder how to make bread bowls? Here is a great bread machine recipe that can be filled with soup or dips of your liking.
Ingredients
1 cup water
1 Tablespoon water
1 egg white, lightly beaten
4 1/2 teaspoons vegetable oil
3 1/4 cups all purpose flour
1/4 cup sugar
1 1/2 teaspoons salt
2 1/4 teaspoons active dry yeast
Directions
Using an electric mixer, or a bread machine on dough setting.
In a large bowl, dissolve yeast in warm water. Let stand until creamy, about 10 minutes.
Add salt, oil and flour to the yeast mixture; beat well.
When the dough has pulled together, turn it out onto a lightly floured surface and knead until smooth and elastic, about 6 minutes.
Lightly oil a large bowl, place the dough in the bowl and turn to coat with oil. Cover with a damp cloth and let rise in a warm place until doubled in volume, about 40 minutes.
If using an bread machine, remove after dough setting.
Punch dough down, and divide into 8 equal portions. Shape each portion into a 4 inch round loaf.
Place loaves on lightly greased baking sheets.
Cover and let rise in a warm place, until doubled in bulk, about 35 minutes.
Preheat oven to 400 degrees F.
In a small bowl, beat together egg white and 1 tablespoon water; lightly brush the loaves with this egg wash.
Bake for 25-30 minutes or until golden. Cool on wire racks.
To make bowls
Cut a 1/2 inch thick slice from top of each loaf; scoop out centers, leaving 3/4-inch-thick shells. Fill bread bowls with hot soup and serve immediately.