Homemade Cheddar Cheese Biscuits Recipe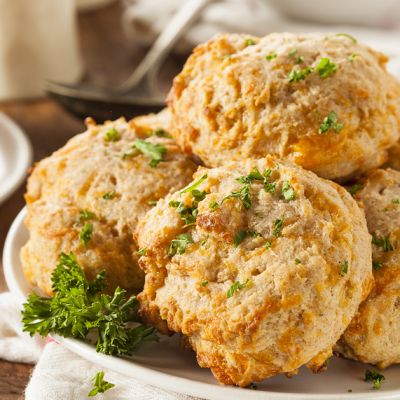 It takes only moments to whip up a batch of these homemade cheddar cheese biscuits. Why not make them today!
Ingredients
(Makes 12)
1 3/4 cups all purpose flour
4 teaspoons baking powder
1 Tablespoon granulated sugar
1 Tablespoon chopped fresh parsley
1/2 teaspoon salt
1/4 cup butter, cut into cubes
1 cup shredded sharp cheddar cheese
1 cup milk
Directions
Preheat the oven to 425F.
Line a baking sheet with parchment paper and lightly grease the paper with butter.
In a large mixing bowl, stir together the flour, baking powder, sugar, chopped parsley and salt.
Use either 2 butter knives or a pastry cutter to cut the butter into the flour mixture making a crumbly texture.
Add the cheese and stir in with a wooden spoon.
Add the milk and use a fork to mix in until you get a moist ragged type of dough mixture.
Using a 1/4 cup measuring cup, drop the biscuits onto the prepared pan 1 1/2 inches apart.
Place into the preheated oven and bake for 13-15 minutes until lightly browned.
Remove from the oven.
Biscuits are extra tasty served warm and fresh from the oven.