Homemade Falafel Recipe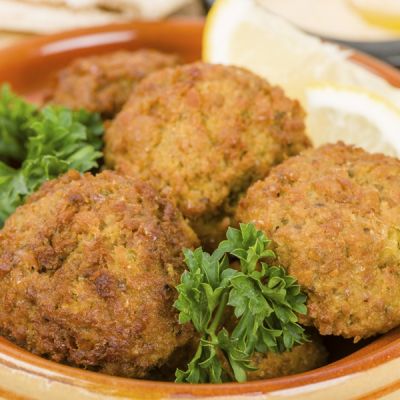 A great recipe for homemade falafel, great served with a yogurt sauce.
Ingredients
2 cups dried garbanzo beans ( about 1/3 pound)
4 scallions, cleaned and minced ( white and green parts)
4 garlic cloves, minced
1/4 cup fresh parsley, minced
1 Tablespoon fresh mint, coarsely chopped
1/2 jalapeno, minced
1 teaspoon salt
1 teaspoon ground cumin
1 teaspoon ground coriander
1 1/2 teaspoons baking powder
3 Tablespoons warm water
vegetable oil, for deep-frying
Directions
Place dried chickpeas in a bowl and cover with cold water.
Soak for at least 15 hours.
Then drain the chickpeas and place them in a food processor with the scallions, garlic, parsley, mint, chili, salt, cumin, and coriander.
Mix baking powder with the warm water and add mixture to food processor. Process until smooth. Transfer mixture into a small bowl, cover, and refrigerate for 30 minutes.
Meanwhile heat about 2 inches of oil in a heavy pan to medium high heat.
When falafel mixture is chilled, roll into 1/4 cup balls.
Carefully place a few at a time into the hot oil, making sure they don't stick to the bottom. Cook, turning, for about 6 minutes, or until the balls are a dark, even brown on all sides. Remove with slotted spoon and drain on paper towels.