Homemade Pita Bread Recipe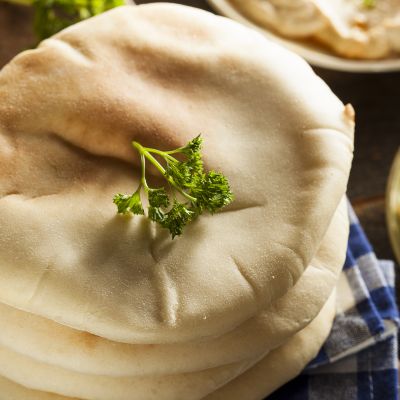 Bake your own pita bread and serve with your favorite dips.
Ingredients
3 cups all purpose flour
1 1/2 teaspoons salt
1 Tablespoon sugar or honey
1 packet yeast
1 1/4 to 1 1/2 cups water, roughly at room temperature
2 tablespoons olive oil, vegetable oil, butter, or shortening
Makes 8 Pitas
Directions
In a mixing bowl, combine the yeast in with the flour, salt, and sugar.
Add the olive oil and 1 1/4 cup water.
Stir together using a wooden spoon.
All of the ingredients should form a ball. If some of the flour is dry and not sticking to the ball, add a little more water.
Once all of the ingredients form a ball, place the ball on a flat surface, and knead the dough for approximately 10 minutes.
You can also put into the mixing bowl and beat on low for 10 minutes with an electric mixer.
Form the kneaded dough into a ball and place into a bowl that has been lightly coated with oil. Roll the ball around the oiled bowl so it gets a light coating of oil.
Cover the bowl with plastic wrap or a damp kitchen towel and set aside to rise until it has doubled in size, approximately 90 minutes.
When it has doubled in size, punch the dough down and divide it into 8 pieces. Roll each piece into a ball, cover the balls with a damp kitchen towel, and let them rest for 20 minutes.
While the dough is resting, preheat the oven to 450 degrees. If you are using a baking stone, put it in the oven to preheat.
If you are using a cookie sheet, turn it upside down and place it on the middle rack of the oven while you are preheating the oven. This will be the surface on which you bake your pitas.
Spread a light coating of flour on a work surface and place one of the balls of dough there.
Sprinkle a little bit of flour on top of the dough and use a rolling pin or your hands to stretch and flatten the dough. You should be able to roll it out to between 1/8 and 1/4 inch thick - 6 inches in diameter.
If the dough does not stretch sufficiently you can cover it with the damp towel and let it rest 5 to 10 minutes before trying again.
Place discs on a lightly greased baking sheet and let rise, uncovered, until barely doubled in thickness, about 30-45 minutes.
Open the oven and place as many pitas as you can fit on the hot baking surface.
They should bake through and be puffy after 3 minutes.
If you want your pitas to be crispy and brown you can bake them for an additional 3 to 5 minutes, but it isn't necessary.