Homemade Raisin Rolls Recipe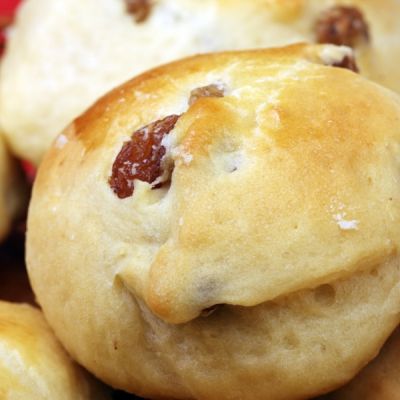 Mmmm mmmm...the smell of these raisin rolls coming out of the oven will make the whole family coming running.
Ingredients
2-1/4 tsp or 1 pkg. (1/4 oz.) active dry yeast
3/4 cup warm water, 95 to 110 degrees F
1/2 cup milk, room temp.
2Tbsp sugar
1 tsp salt
1 Tbsp soft butter
1 cup raisins
3 cups bread flour
Directions
In large bowl, mix together yeast and warm water and let sit for 10 minutes.
Stir in milk, sugar, salt, and butter. Add raisins.
Mix in 2-1/2 cups of flour.
Turn dough out onto floured board and knead, adding flour a tablespoon at a time as needed until dough is soft, not sticky.
Place dough in greased bowl. Grease all sides of the dough.
Cover bowl with clean dishtowel and let rise in warm, place for about 1 hour or until double in size.
Punch down dough and knead on lightly floured board for about 5 minutes.
Divide dough into 10 pieces. Shape into small buns.
Grease a large baking sheet.
Place rolls on sheet, cover, and let rise in warm, until they become round and slightly larger.
Bake for 20 minutes at 400 degrees F.