Homemade Vanilla Ice Cream Recipe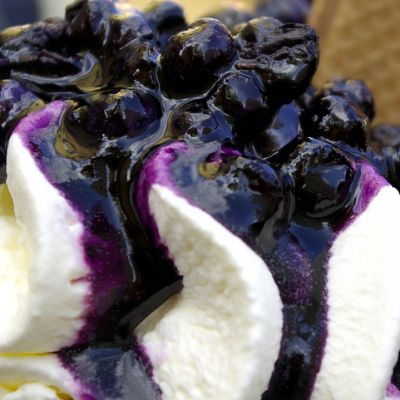 This homemade vanilla ice cream recipe is definitely worth making and so much better than store bought. This recipes also includes the delicious and thick blueberry sauce seen in the photo.
Ingredients
Homemade Vanilla Ice Cream
4 eggs
2 cups granulated sugar
4 cups whipping cream
4 1/2 teaspoons vanilla extract
1/2 teaspoon salt
5 cups whole milk
Fresh Blueberry Sauce
2 cups fresh blueberries
1 Tablespoon water
2 Tablespoons granulated sugar
pinch salt
1 teaspoon cornstarch
1 teaspoon cold water
1 1/2 teaspoon lemon juice
1/4 teaspoon vanilla extract
(Makes about 1 cup)
Directions
Crack eggs into a medium bowl and mix on medium speed until foamy.
Add sugar and keep mixing for about 5 minutes until it thickens.
Add whipping cream, vanilla, salt and milk and mix well.
Pour into a 1 gallon freezer can and freeze according to manufacturers instructions. If you are making the ice cream without an electric ice cream maker, be sure to give it a stir after an hour to break up the ice crystals.
Let sit another full hour before serving.
Blueberry Sauce
In a small pot combine the blueberries, water, sugar and salt.
Stir together and cook over medium heat until the sugar is dissolved, then bring to a boil.
Reduce the heat to low and simmer for about 7 minutes or until the berries burst.
Pour a small amount of the hot blueberry juice into the cornstarch, stir to combine then pour the cornstarch mixture back into cooking sauce.
Stir and cook for another 2 minutes, then remove from the heat.
Transfer the blueberries into a container.
Keep refrigerated.