Honey Cupcakes Recipe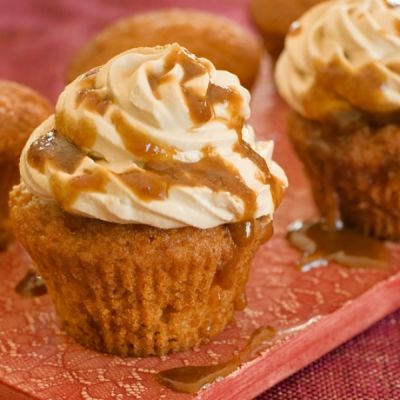 A Delicious recipe for sweet honey cupcakes served with a caramel drizzle.
Ingredients
Cupcakes
1/2 cup butter, room temperature
3/4 cup granulated sugar
2 eggs
1 1/2 cups all purpose flour
1 tsp baking powder
1/2 tsp salt
1/2 cup buttermilk
1/4 cup honey
1 teaspoons vanilla
Frosting
1 1/2 sticks unsalted butter, room temperature
1/2 cup cream cheese, at room temperature
3 cups confectioner's sugar
3 Tablespoons honey
Drizzle
1/2 cup brown sugar
1/4 cup heavy cream
2 Tablespoons butter
1/2 Tablespoon vanilla extract
1/8 teaspoon salt
Directions
Cupcakes
Preheat oven to 350 degrees.
Line 12 cup muffin pan with cupcake liners.
In medium bowl mix together flour, baking powder and salt, set aside.
In small bowl mix together buttermilk, honey and vanilla, set aside.
Using an electric mixer, cream butter and sugar on medium speed until combined.
Add eggs, one at a time beating well after each addition.
Gradually add the dry and wet ingredients, alternating. Mix until combined.
Distribute batter evenly between cupcake liners.
Bake for 18-20 minutes. Let cupcakes cool in pans for 5 minutes, then remove to wire rack to finish cooling.
Caramel Drizzle
To make the caramel drizzle, Mix the brown sugar, cream, butter and salt in a saucepan over medium-low heat.
Cook while stirring for 5 minutes. Add the vanilla and cook another minute to thicken further. Refrigerate until cold to serve.
Frosting
To make the frosting, Using an electric mixer cream butter and cream cheese until combined.
Add confectioner's sugar and continue to mixing scraping down sides of bowl as needed.
Gently mix in honey.
Pipe frosting onto cooled cupcakes, drizzle with cold caramel sauce.