Honey Mustard Stuffed Pork Recipe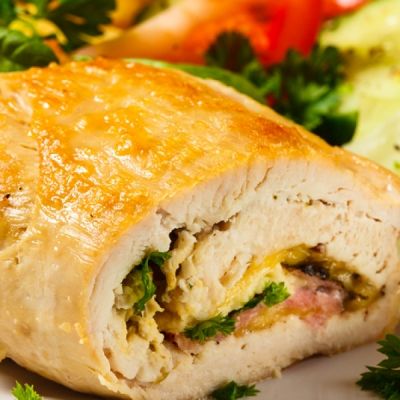 A Tasty recipe for honey mustard stuffed pork. This is a family favorite.
Ingredients
1 boneless pork loin roast
Stuffing
½ cup honey mustard
4 garlic cloves, minced
2 Tablespoons parsley, chopped
1 tomato, thinly sliced
1 teaspoons pepper
1 teaspoon salt
1 Tablespoonolive oil
Directions
Preheat oven to 350˚F.
Grease a medium sized baking pan.
To cut the pork, starting about a third in from one side,make a lengthwise slitdown the roast to within ½ inchof the bottom.
Turn roast over and make another lengthwise slit, starting about a third in from the opposite side.Open roast so it lies flat.
Combine mustard, salt, pepper and garlic and rub two-thirds of the mixture into the open roast.
Lay a thin layer of tomatoes and sprinkle with parsley.
Roll up jelly-roll style, starting with a long side; tie withkitchen string if needed.Transfer to baking dish.
Brush oil and the remaining mustard mixture over roast. Tent with foil.
Bake for 50 minutes. Take the foil tent off and bake for 10 more minutes until lightly browned.