Honey Nut Bar Recipe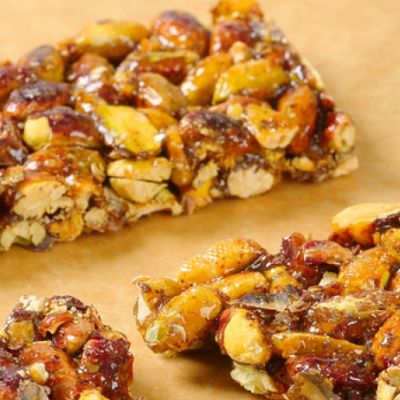 These honey nuts bars have so much flavor and are a great healthy snack.
Ingredients
1 cup cashews
1/2 cup almonds
1/2 cup pecans
1/2 cup unsweetened coconut, shredded
1 teaspoon pure vanilla extract
1/2 orange, zest of
1/2 teaspoon sea salt
1/4 teaspoon ground ginger
1/2 cup honey, raw
1 Tablespoon honey, raw
(Makes 16 bars)
Directions
Preheat oven to 350 degrees F. Liberally line a 8 x 8 baking pan with parchment paper.
Use a food processor or hand chop the almonds and cashews.
In a large bowel, mix together all ingredients except honey.
Add honey and then fold the mixture around until everything is well-coated.
Spread the mixture into the baking dish and mash down evenly with clean hands or the back of a spoon.
Bake for about 20 minutes.
Transfer the pan to a wire rack and then use the excess parchment paper to press down and compress the bars before they cool.
Allow cool for 30 minutes and then remove bars from pan by lifting parchment paper and then flipping onto another sheet of parchment paper.
Shape as needed, allow to continue cooling completely and then cut into bars.