Honey Spice Cake Recipe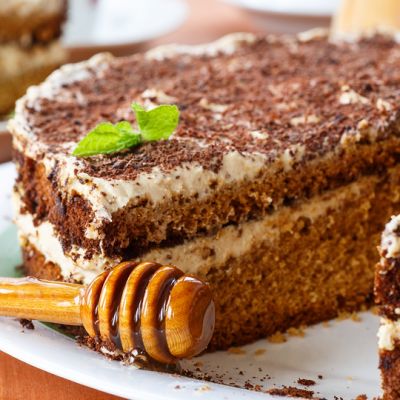 This recipe for honey spice cake is layered with a coconut cream cheese frosting and freshly grated chocolate.
Ingredients
1/2 cup (1 stick) unsalted butter, softened
1/2 cup packed light brown sugar
1 large egg
2/3 cup honey
1/2 cup sour cream
zest from a lemon
1/4 cup lemon juice
1 teaspoon vanilla extract
1 1/2 cup all-purpose flour
1 Tablespoon baking powder
1/2 Tablespoon baking soda
1/2 teaspoon salt
1 teaspoon ground cinnamon
1/2 teaspoon ground cloves
1/4 teaspoon ground allspice
small pinch of freshly grated nutmeg
Frosting
8 ounces cream cheese, room temperature
1/4 cup (1/2 stick) - butter, room temperature
1 1/2 cups confectioners' sugar
1/4 cup cream of coconut
1/2 teaspoon pure vanilla extract
1 cup chocolate, grated for garnish
(Makes 1 - 8 inch round cake)
Directions
Preheat oven to 350F.
Grease an 8-inch cake pan with oil or butter.
In a large bowl cream together butter and brown sugar until fluffy.
Add egg and mix until combined. Add honey, sour cream, lemon zest, lemon juice and vanilla. Beat until fully incorporated.
In a large bowl sift together the flour, baking powder, baking soda, salt and spices. Set aside.
Mix flour into wet ingredients and mix until incorporated.
Transfer batter to the greased pan.
Bake until cake is golden brown and firm to the touch, about 40 minutes.
Cool in the pan for 5 minutes. Remove to wire rack and cool completely.
Frosting
Using an electric mixer beat cream cheese and butter together until they are smooth and fluffy. Add cream of coconut, and vanilla.
Add confectioners' sugar and beat until all ingredients are well combined and smooth.
Add more confectioners' sugar to reach desired consistency.
Assembly
Slice cooled cake in half horizontally to make 2 rounds.
Frost between layers and on top.
Garnish with grated chocolate.