Hot Cross Raisin Buns Recipe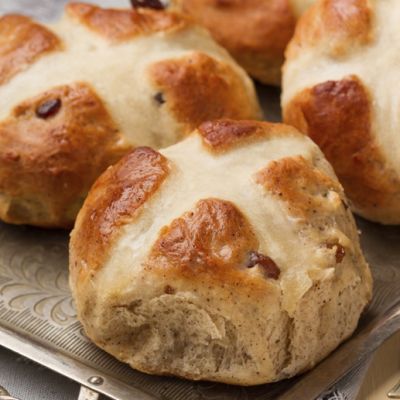 Hot Cross Raisin Buns are easy to make. This version is done without the sugar glaze.
Ingredients
3 cups unbleached all purpose flour
2 packages active dry yeast ( 5 1/2 teaspoons)
1/4 cup granulated sugar
1 teaspoon cinnamon
1/2 teaspoon salt
1/2 teaspoon grated fresh lemon zest
3/4 cup milk
1/4 cup butter, cut into pieces
2 large eggs, beaten
1/2 cup raisins or 1/2 cup currants
GLAZE
1 large egg, beaten with
1 Tablespoon milk
(Makes 16 buns)
Directions
Measure the flour, yeast, sugar, cinnamon, salt, and lemon zest into a large mixing bowl or into the work bowl of a food processor.
Heat milk to boiling in a small saucepan over medium-high heat.
Remove from heat and add the butter.
Stir until the butter is melted.
Stir in the eggs.
Add the liquid ingredients to the dry ingredients, and process or mix with an electric mixer until the dough is smooth but soft, about 2 minutes.
Mix in the raisins.
Cover with plastic wrap and let rise for 1 hour.
Cover a baking sheet with parchment paper.
Turn the dough out onto an oiled surface.
Dust the dough with flour and knead to express air bubbles.
Divide the dough into 16 equal parts.
Shape each into a round ball.
Place the balls of dough, smooth side up, about 3 inches apart on the prepared baking sheet.
Let rise in a warm place, lightly covered, until almost doubled, for 45 minutes to 1 hour.
Preheat the oven to 400 degrees F.
Brush the tops of the buns with the egg glaze.
Slash a cross in the center of each bun with a sharp knife.
Bake for 10 to 12 minutes, until golden.
Remove and place the pan onto a cooling rack.
Serve warm.