How To Make An Eggless Chocolate Cake Recipe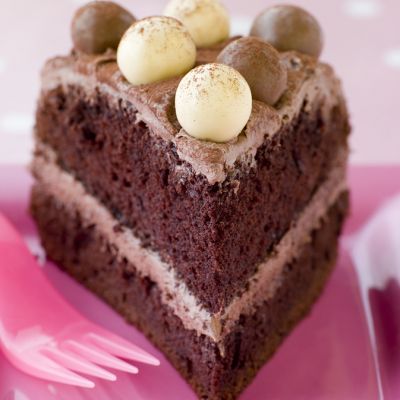 Out of eggs? Can't eat eggs? Ever wonder how to make an eggless chocolate cake recipe?
Ingredients
3 cups all purpose flour
2 cups granulated sugar
6 Tablespoons cocoa
2 teaspoon baking soda
1 teaspoon salt
3/4 cup grapeseed oil
2 Tablespoons vinegar
2 teaspoons pure vanilla extract
2 cups cold water
(Makes two 9 inch round cakes)
Directions
Preheat oven to 350 degrees F.
Line with parchment paper, grease and lightly flour two 9" cake pans.
In a large mixing bowl, sift together all of the dry ingredients.
In a second bowl, stir together the wet ingredients.
Using an electric mixer, mix the wet ingredients into the dry and blend until smooth.
Pour into cake pans and bake for approximately 30 minutes. When a toothpick inserted in the middle comes out clean the cakes are ready.
Place onto cooling racks and let sit in the pans for 5 minutes, then turn the cakes onto the cooling racks and remove the parchment paper.
Frost and garnish as you wish. There are a nice variety of frostings to choose from in Grandmothers Kitchen website.