Individual Chocolate Cakes With Creamy White Chocolate Frosting Recipe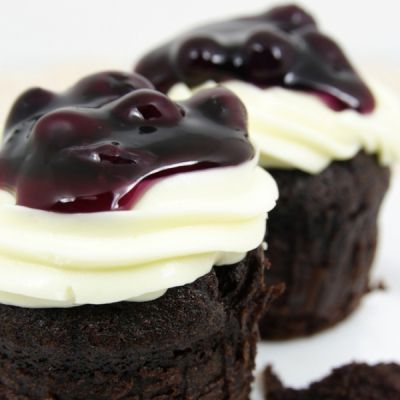 A very yummy recipe for individual chocolate cakes with creamy white chocolate frosting. Serve topped with fresh blueberry sauce.
Ingredients
Makes 12 mini cakes
Individual Chocolate Cakes
1 1/3 cups all purpose flour
1/4 teaspoon baking soda
2 teaspoons baking powder
3/4 cup unsweetened cocoa powder
1/8 teaspoon salt
3 Tablespoons butter, at room temperature
1 1/2 cups granulated sugar
2 eggs
3/4 teaspoon pure vanilla extract
1 cup milk
Frosting
6 ounces white chocolate, melted and cooled
1 cup butter, at room temperature
2 cups confectioners' sugar
5 Tablespoons heavy cream
Blueberry Sauce
2 cups fresh or frozen blueberries
1/4 cup water
1 cup orange juice
3/4 cup granulated sugar
3 Tablespoons cornstarch + 1/4 cup water
Directions
Individual Chocolate Cakes
Preheat oven to 350°F.
Line a muffin pan with paper or foil liners.
Sift together the flour, baking powder, baking soda, cocoa and salt. Set aside.
In a large bowl, use an electric mixer on medium to cream together the butter and sugar until light and fluffy.
Add the eggs one at a time, beating well with each addition, then stir in the vanilla.
Add the flour mixture, beating in alternately with the milk and mix well.
Fill the muffin cups 3/4 full.
Place in the preheated oven and bake for 15 to 17 minutes, or until a toothpick inserted into center of a cupcake comes out clean.
Remove from the oven to a cooling rack.
After 10 minutes, place the cakes directly onto the cooling rack and let cool completely before frosting.
Frosting
Melt the white chocolate in a double boiler or a small pan over low heat on the stovetop. Shut off and set aside to cool.
Place the butter into a mixing bowl and use an electric mixer at medium speed to beat until smooth. Mix in the confectioners sugar at low speed until fluffy.
Add in melted and cooled white chocolate and heavy cream.
Beat on high speed for 3-4 minutes until fluffy. Place frosting into a piping bag and frost the cooled cakes.
Blueberry Sauce
In a saucepan over medium heat, combine the blueberries, water, orange juice, and sugar. bring to a low boil.
Stir the cornstarch into the 1/4 cup water to make make a paste.Spoon 1/4 cup of the hot blueberry sauce mixture into the cornstarch mixture and stir to combine.
Pour the warm cornstarch/blueberry sauce back into the saucepan and gently stir while simmering.
Cook for about 3-4 minutes as the blueberry sauce gets thick enough to coat the back of a metal spoon.
Remove from heat and transfer to a glass bowl. Let cool to room temperature then place into the refrigerator to cool further before serving with the frosted cupcakes.
Serve frosted individual cakes with a spoonful of blueberry sauce.