Individual Tiramisu Parfaits Recipe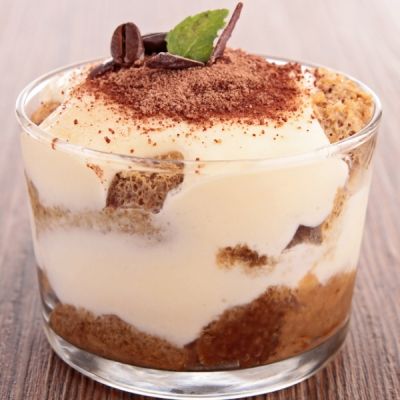 A very tasty recipe for six tiramisu parfaits. These are lovely individual desserts.
Ingredients
2 cups mascarpone cheese
3 1/2 tablespoons Bailey's Irish Cream, divided
1/3 cup granulated sugar
1 1/2 cups heavy whipping cream
24 soft ladyfingers
1 1/4 cups espresso, cooled
1 Tablespoon vanilla
1/4 cupbittersweet chocolate, shaved
Directions
Have ready 6 dessert dishes.
Combine mascarpone, 2 tablespoons of the Bailey's Irish Cream, and sugar. Whisk together gently until combined.
In mixer bowl with whisk attachment, beat the heavy whipping cream on medium high until stiff peaks form. Fold the whipped cream into the mascarpone mixture.
Stir the vanilla and the remaining 1 1/2 tablespoons of Baileys into the cooled espresso coffee.
ladyfingers into cubes. Place 6 cubes into the bottom of the dessert dish. Drizzle 2 tablespoons of espresso over the cubes. Repeat for the other 5 dishes.
Add 1/4 cup layer of mascarpone cheese mixture to each dish, Gently press down and spread to an even layer.
Repeat the process, cubed ladyfingers, espresso, mascarpone cheese, then shaved chocolate.
Cover the top of each one with plastic wrap and place in the refrigerator to chill until ready to serve.