Italian Chocolate Ricotta Pies Recipe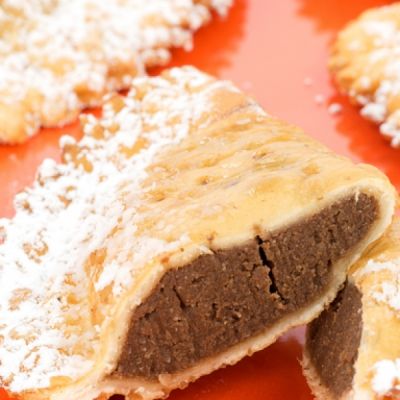 A very yummy recipe for Italian chocolate ricotta pies.
Ingredients
Sweet Cheese Filling
1 cup Mascarpone cheese
1 cup Ricotta cheese
1/4 cup all purpose flour
1/4 cup granulated sugar
1/8 tsp salt
1 large egg
1 teaspoon lime zest
1/2 teaspoon vanilla
1/4 teaspoon cinnamon
1/2 cup chocolate chips, melted
Pastry
4 cups all purpose flour
2/3 cup granulated sugar
1 teaspoon baking powder
1/2 teaspoon salt
1 cup unsalted butter, cold cut into pieces
2 oz ice water
4 large eggs
Directions
for the Filling. In a mixing bowl add ricotta, mascarpone, sugar, flour, egg, lime zest, vanilla, salt, and cinnamon and blend together.
Add in melted chocolate. Refrigerate for two hours.
For the pastry. with a food processor or mixer, add flour, baking powder, sugar and salt and pulse a few times to mix.
Add the butter and pulse until all the butter has been incorporated. Add the eggs and pulse until it begins to ball up on the blade of the food processor.
If your dough looks too dry add cold water a little at a time until it starts to come together. Place dough on floured surface and roll into two logs. wrap in plastic and refrigerate until you are ready to use them.
Preheat oven to 350 degrees
remove dough from refrigerator. Cut logs into 4 pieces each and roll them into small circles, on a floured surface, using a rolling pin.
Place filling in the center of each dough distributing evenly among dough and close to make a half moon. use a fork to seal the edges, cutting off any excess dough.
Bake for 20-25 minutes or until the dough is a golden brown.
dust with confectioners sugar.