Italian Large Meatball On Pasta Recipe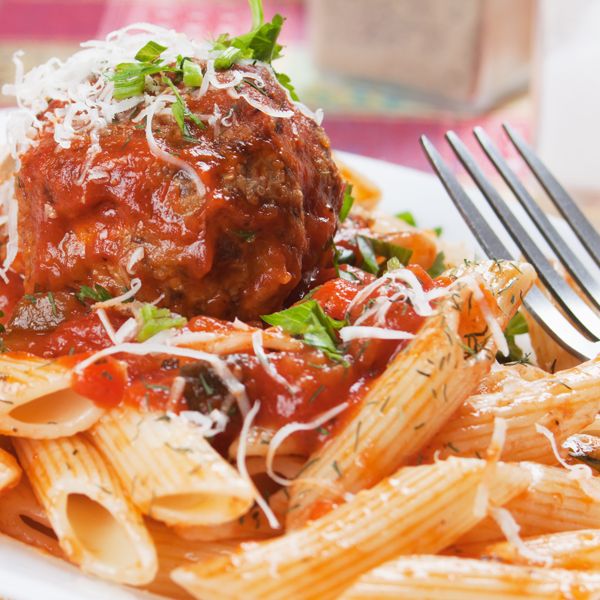 A Yummy large meatball recipe served with homemade sauce and penne pasta.
Ingredients
Sauce
2 tbsp vegetable oil
1 small onion, chopped
1 carrot, diced
1 celery stalk, diced
1 sweet green pepper, diced
3/4 tsp salt
3/4 tsp dried basil
1/4 cup tomato paste
1 can (28 oz) diced tomatoes
Meatballs
4 eggs, slightly beaten
1/4 cup water
1-1/2 cup unseasoned bread crumbs
4 teaspoons minced garlic
1 medium onion, finely minced or grated
1 cup fresh Italian parsley, chopped
1 cup grated Parmesan cheese
1 tablespoon dried leaf oregano
2 teaspoons sea salt
1 tablespoon ground black pepper
1 lbs. ground pork
3 lbs. ground beef
1 package Penne
fresh parsley for garnish
Directions
Preheat oven to 375 degrees.
Combine eggs, water, and breadcrumbs in a bowl. The mixture will thicken as the bread crumbs absorb the liquid. Add garlic, onion, parsley, cheese, oregano, salt, and pepper; stir until combined. let rest for 10 minutes
In separate large bowl, combine ground pork and beef until the 2 meats are combined throughout. Add bread crumb mixture to meats. Mix these together, again . Combine ingredients well, but do not overmix.
Form meatballs with hands. Bake large meatballs for 30 minutes until no longer pink in center.
Cook Penne according to package directions.