Italian Meatball Pasta Recipe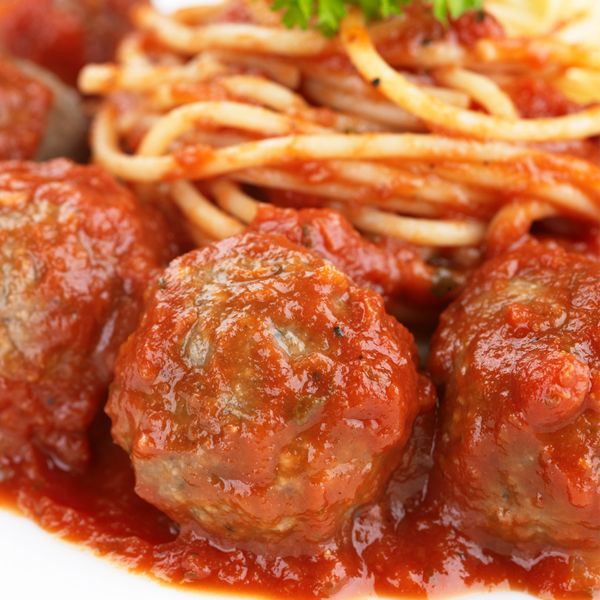 A Flavorful Italian meatball recipe. Served with spaghetti and delicious tomato sauce.
Ingredients
Sauce
1/4 cup olive oil
4 garlic cloves (minced)
1 large onion (chopped)
2 (12 ounce) cans tomato paste
2 (8 ounce) cans tomato sauce
1 (14 1/2 ounce) can diced tomatoes
2 bay leaves
1 teaspoon oregano
1 teaspoon basil
1 teaspoon salt
1 teaspoon pepper
1 teaspoon sugar
Meatballs
2 lbs ground beef
2 garlic cloves (finely minced)
1 cup Italian breadcrumbs
1 teaspoon basil
1 teaspoon oregano
1/2 cup parmesan cheese
3 eggs
1 teaspoon salt
1/4 teaspoon pepper
Directions
Preheat oven to 350 degree
In large pot saute onion and garlic in olive oil until onion is softened.
Add tomato paste and stir into olive oil until completely mixed.
Stir in tomato sauce and tomatoes.
Add bay leaves, oregano, basil, salt, pepper, sugar and stir well.
Bring to a boil then turn down and simmer for one hour.
For your meatballs combine the beef, finely minced garlic, Italian bread crumbs, basil, oregano, parmesan cheese, eggs, salt and pepper and mix together well.
Shape into 1 inch size meatballs and place on a cookie sheet. Bake meatballs for 20 minutes.
Uncover the sauce during the last half hour to thicken up the sauce.
Cook pasta according to package directions.
Serve sauce and meatballs over spaghetti.