Italian Plum Cake Recipe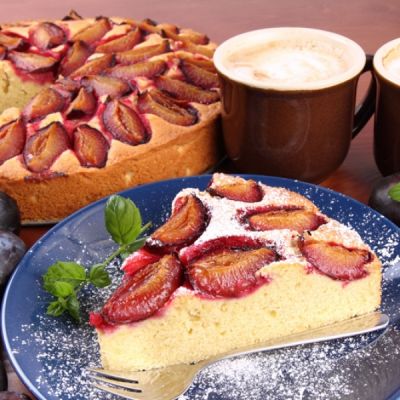 A Beautiful recipe for delicious Italian plum cake.Great enjoyed with an afternoon tea.
Ingredients
1 cup unblanched almonds
1/2 cup granulated sugar
1/2 cup all purpose flour
1/8 teaspoon salt
3 large eggs
1/2 cup milk
4 Tablespoons butter, melted
2 pounds Italian plums, pitted and quartered
1/4 cup confectioners sugar, for dusting
Directions
Preheat oven to 350 degrees F. Butter a 8-inch springform pan.
Place the almonds and 1/2 cup sugar into a food processor and process until the nuts are finely ground.
Add the flour and the salt, and pulse again.
Transfer to a bowl.
Beat the eggs and milk together, then stir in the melted butter.
Add the egg mixture to the nut mixture and whisk until the batter is smooth.
Pour the batter into the pan and smooth out the top with a spatula.
Arrange the plum slices on the top.
Bake for 40-45 minutes, until the top is golden and a tester comes out clean.