Jam Filled Cupcakes Recipe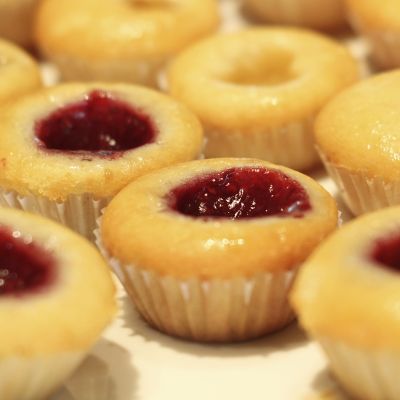 These mini jam filled cupcakes can be filled with your favorite jam flavor.
Ingredients
Cupcakes
3 Tablespoons lemon juice
1/2 cup milk, room temperature
1/2 cup butter, at room temperature
1 lemon, Zest from
1 cup granulated sugar
1 teaspoon vanilla extract
2 eggs, at room temperature
1 1/2 cups all purpose flour
1 1/2 teaspoon baking powder
1/8 teaspoon salt
Filling
1/2 cup strawberry jam preserves, or any flavor you prefer
(Makes 48 mini cupcakes)
Directions
Preheat oven to 350˚F. Prepare mini muffin tins with paper liners.
In a small bowl, combine the milk and lemon juice. Set aside.
Using an electric mixer, Beat the butter, sugar, lemon zest and vanilla until creamy.
Add eggs one at a time, scraping down the sides of the bowl between additions.
In a separate bowl, combine the flour, baking powder, and salt.
Add the dry ingredients to the butter mixture alternating with additions of milk mixture.
Beat until just combined.
Fill the mini cupcake tins about 2/3 full.
Place a small spoon of jam in the center of each cupcake.
Bake for 12-15 minutes, The cupcakes should spring back when lightly pressed.
Allow to cool on wire racks before serving.