Jumbo Shrimp Recipe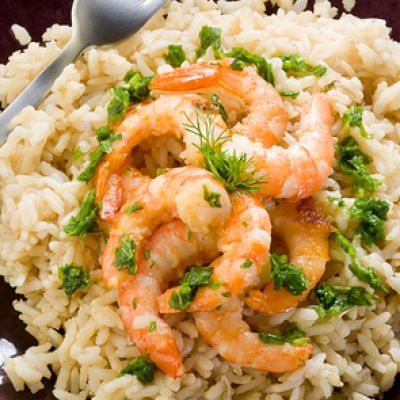 This jumbo shrimp recipe uses simple herbs, butter and a little white wine. It takes moments to make and goes very well with rice.
Ingredients
1 1/2 lbs jumbo shrimp, deveined and tails off
1/2 cup butter
1 garlic clove, crushed
1 Tablespoon fresh basil, finely chopped
1 Tablespoon fresh thyme, finely chopped
1 Tablespoon fresh dill, finely chopped
1 Tablespoon cornstarch
1/2 cup dry white wine
(4-6 servings)
Directions
Wash and prepare the shrimp, deveing, removing shell and tails.
Use a large skillet and melt the butter over low heat.
Do not let the butter scorch or get too hot and start smoking or you will need to start again.
Add the crushed garlic, along with the shrimp, basil, thyme and dill and turn the heat up to medium.
Saute for 2-3 minutes.
Shrimp cook faily quickly.
In a measuring cup, stir the cornstarch into the white wine.
As soon as the shrimp begin turning pink, stir the wine mixture in nice and slow.
Continue cooking for anoter minute or two until the shrimp are done.
Don't overcook or the shrimp get chewy and tough.
Season to taste with salt and pepper and serve over rice being sure to spoon on the juices from the pan.