Lamb Shank Stew Recipe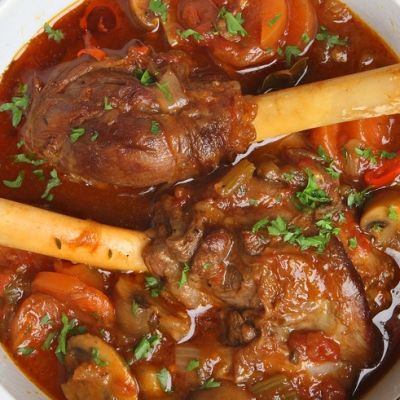 This lamb shank stew recipe is cooked slow and on low and produces a tender meat stew.
Ingredients
2 Tablespoons Olive oil
3 lbs of lamb shanks
Salt and freshly ground pepper
6 garlic cloves
2 celery ribs, chopped
4 carrots, sliced
1 large onion, coarsely chopped
1 cup mushrooms, sliced
1/2 red pepper, sliced thin
1/2 cup tomato paste
1 cup dry red wine
3 cups chicken stock
parsley, chopped
Directions
Season the lamb shanks with salt and pepper.
In a large dutch oven set over medium high heat, heat 2 Tablespoons olive oil.
Place lamb shanks into hot dutch oven and brown well on all sides, working in batches if necessary.
Transfer the browned lamb shanks to a plate. Set aside.
With the dutch oven still over medium high heat, add the garlic, celery, chopped carrots, onion, mushrooms and red pepper to the pan.
Cook, stirring occasionally, for about 10 minutes, until golden brown.
Add the tomato paste and continue to cook for about 2 minutes, stirring constantly.
Add the wine and bring to boil over high heat.
Continue to boil for about 5 minutes, until the liquid is reduced to a very syrupy sauce.
Return the shanks to the pot.
Add the chicken stock and bring to a simmer.
Cover the pan and reduce the heat to low. Allow the shanks to braise for 3 hours, until the meat is tender. Turn the shanks occasionally as they cook.
Once done, remove from heat. Transfer the shanks and their braising liquid to a serving platter, garnish with fresh chopped parsley and serve hot.