Lasagna Recipe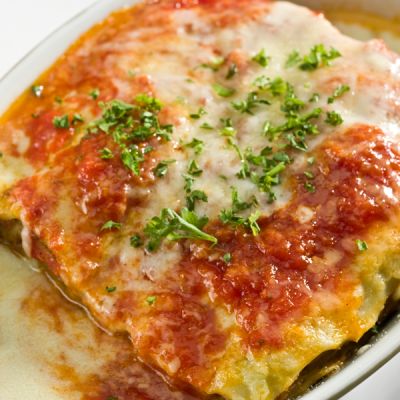 Lasagna is the perfect meal to make ahead when you know you are going to have a lot of people to feed and you don't want to be cooking while everyone else is visiting!
Ingredients
1 1/2 pounds lean ground beef
1/2 pound Italian sausage
1 large onion, chopped
2 garlic cloves, minced
1 teaspoon salt ( or to taste)
1 Tablespoon dried parsley flakes
1 Tablespoon dried oregano
1 Tablespoon dried basil
2 (14 1/2 ounce) cans diced stewed tomatoes
2 (6 ounce) cans tomato paste
24 ounces ricotta cheese
2 eggs, beaten
1/2 teaspoon pepper
2 Tablespoons parsley
1/2 cup grated parmesan cheese
1 lb mozzarella cheese, divided
12-15 lasagna noodles
*Optional freshly chopped parsley for garnish
Directions
In a deep cooking pot, brown the ground beef, Italian sausage, onion and garlic.
Add salt, parsley, oregano and basil and stewed diced tomatoes and tomato paste and stir until well mixed.
Simmer 45 minutes.
Cook lasagna noodles according to package directions; drain and set aside.
Butter a 13 x 9" baking pan.
In a bowl,combine ricotta cheese, eggs, pepper, 2 tablespoons parsley, Parmesan cheese and 1/2 of mozzarella cheese.
Into the lasagna pan, layer noodles, meat sauce, and cheese mixture; repeat.
Top off with layer of noodles; sprinkle evenly with remaining mozzarella cheese.
Cover with aluminum foil.
Bake at 375 degrees F for 30 to 40 minutes.
Uncover for the last 5 minutes to brown the cheeses.
Remove from the oven. Let sit for 15 minutes to set.
Garnish with freshly chopped parsley for color if desired.
Serve with a colorful fresh salad.