Layered Brownie Cheesecake Recipe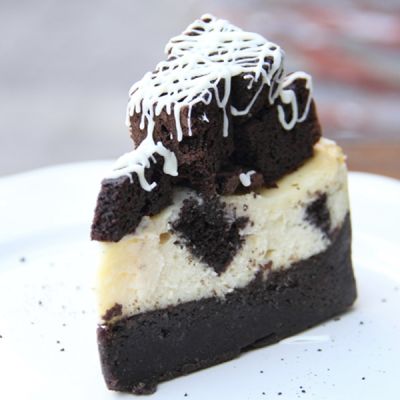 A Delicious recipe for brownie cheesecake. This recipe takes a little bit of time to prepare but is very and will be a very popular treat.
Ingredients
Brownie topping
2 cups granulated sugar
1 cup butter
1/2 cup cocoa powder
1 teaspoon vanilla extract
4 eggs
1 1/2 cups all purpose flour
1/2 teaspoon baking powder
1/2 teaspoon salt
Brownie bottom layer
½ cup butter
2 ounces dark chocolate, chopped and melted
1 cup granulated sugar
2 eggs
1 teaspoon vanilla extract
2/3 cup all purpose flour
2 tablespoons cocoa powder
Cheesecake layer
2 (8 oz. each) bricks cream cheese, at room temperature
1/2 cup granulated sugar
1 teaspoon vanilla
1/2 cup sour cream
2 eggs
Topping
1/3 cup white chocolate chips, melted.
Directions
Preheat oven to 350 degrees F, grease a 9x13 inch baking dish. and a 9 inch round spring form pan.
Make the brownie topping ahead of time.
To make the brownie topping, melt the butter and mix all ingredients in a large mixing bowl just until cmbined. pour into 9 inch baking dish.
Bake for 20 to 30 minutes or until a toothpick inserted in the center somes out clean. Set aside to cool completely.
Once cool cut into 1 inch squares for topping and filling for cheesecake layer.
Prepare brownie bottom layer. Melt the chocolate and butter. In a large mixing bowl combine all wet ingredients then beat in the flour and cocoa. pour into the 9 inch spring form pan. bake for 15 minutes while preparing cheesecake layer.
To prepare the cheesecake. Beat cream cheese, sugar and vanilla in large bowl with mixer until blended. Add sour cream; mix well. Add eggs mixing on low speed just until blended.
Pour cream cheese mixture carefully over brownie layer in pan, carefully distribute about 1/4 of the brownie pieces into the cheesecake mixture pressing them down if needed.
Bake 35-40 minutes or until center is almost set. Run knife around rim of pan to loosen sides. cool dessert completely.
Refrigerate 4 hours.
To serve, place remaining brownie pieces over top of cheesecake and drizzle with melted white chocolate.