Layered Pistachio Cake With Whipped Cream Cheese Frosting Recipe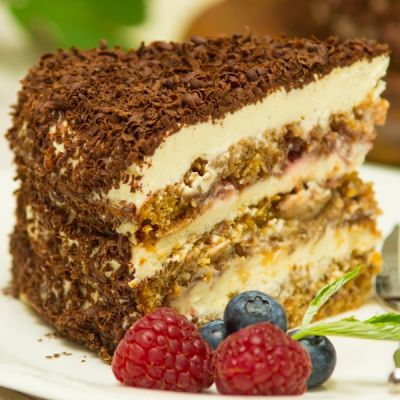 For a very special cake try this recipe for a Layered Pistachio Cake With Whipped Cream Cheese Frosting
Ingredients
Cake
1 cup shelled pistachios
2 ½ cups cake flour
1 Tablespoon baking powder
1 teaspoon baking soda
¾ teaspoon salt
1 cup butter, softened
1 ¾ cups sugar, divided
1 Tablespoon pure vanilla extract
2 large eggs
1 ½ cups ice water
3 large egg whites, at room temperature
¼ teaspoon cream of tartar
Frosting
16 ounces cream cheese at room temperature
1 ½ cup powdered sugar
1 teaspoon pure vanilla extract
1 cup heavy whipping cream
Garnish
8 ounces dark chocolate, grated
Directions
Frosting
Beat the cream cheese, sugar and vanilla until smooth and fluffy.
In a separate bowl, beat the heavy cream to form almost stiff peaks.
Add the whipped cream into the cheese mixture and quickly and briefly beat to combine.
Do not over beat.
Cake
Preheat the oven to 325°F.
Grease three 8-inch round cake pans with butter.
Line the bottoms with circles of parchment paper, dust the pans with flour and knock out the excess.
Place the shelled pistachios into a food processor, pulse until they are a fine grind.
Into a large bowl, sift cake flour, baking powder, salt, and
baking soda, then stir in the ground pistachios.
In a stand mixer using the paddle attachment, beat butter on medium speed until creamy, about 1 minute.
Add 1-1/2 cups sugar and vanilla and beat for about 4 minutes, until fluffy.
Scrape down the bowl, and with mixer on low speed, beat in eggs one at a time until well blended.
Beat in the flour mixture in 3 additions, alternating with the cold water, beginning and ending with flour mixture.
Beat until blended, scraping bowl; then beat batter 15 more seconds. Scrape into a large bowl.
Use a clean bowl with a whisk attachment, and beat egg whites and cream of tartar on medium speed until foamy. With mixer on medium-high speed, add remaining 1/4 cup sugar and beat just until soft peaks form, taking care not to over beat.
Gently fold whites into batter just until completely combined.
Divide batter between prepared pans and spread evenly.
Bake 35 to 40 minutes, or until a toothpick inserted in center of cakes comes out clean.
Transfer pans to wire racks and let cool 20 minutes.
Turn cakes out onto racks, remove parchment paper, flip them over, and let cool completely.
Assembly
Put the first layer of cake on a cake plate.
Proportion your frosting, then spread a layer of frosting on the first layer of cake, place the second layer of cake on top, spread another portion of frosting.
Place the 3rd layer of cake on top and spread the remaining frosting on the top and sides.
Sprinkle grated chocolate over the entire cake.