Lazy Perogie Casserole Recipe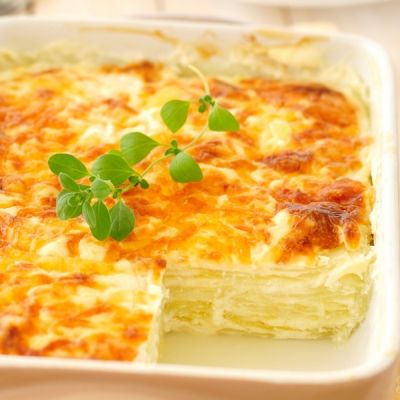 An Easy recipe for delicious lazy perogie casserole, Serve with sour cream.
Ingredients
12 regular lasagna noodles
5 Tablespoon margarine or butter
1 medium onion, diced
4 medium sized russet potatoes,
2 cups dry curd cottage cheese
1 egg
1 1/2 cups shredded cheddar cheese
Serves 6-8
Directions
To cook pasta, fill a large pot 2/3 of the way with hot tap water. Add 1 teaspoon salt to the water. Bring to a boil over high heat. Add the pasta and stir with a wooden spoon to be sure noodles don't stick to the bottom of the pot. Turn the heat down, enough to maintain a boil and stir every so often to prevent noodles sticking. Do not cover the pot. After 8-10 minutes, take a piece of pasta out of the water, allow it to cool and do a test for doneness. Bite into the pasta. If it is too hard to bite or you see a white center, it needs to cook a little longer. When it cooks all the way through it is ready and cooked el dente. Turn off the heat, put the pasta into a strainer. Shake out excess water and put the pot back onto a cool part of the stove.Pour one tablespoon oil into the noodles to keep them from sticking together.
In a medium size frying pan, heat the margarine and sauté the onions until they are transparent. Set aside.
While the pasta is cooking, boil the potatoes.
Peel, rinse and put cut the potatoes into cubes.Put just enough water to cover the potatoes in the pot, bring to a boil and cook until potatoes are tender. Drain and mash the potatoes. Add cottage cheese, egg, cooked onions and margarine and mix together well.
Preheat oven to 350°F.
Grease a 9 x 13 inch pan.
Layer noodles alternately with potato mixture. Sprinkle cheese in a center layer and over the top.
Cover with foil and bake for 15 minutes.
Remove foil and bake an additional 15 minutes.
Let stand for 10 minutes before cutting into squares to serve.