Lemon Cake Recipe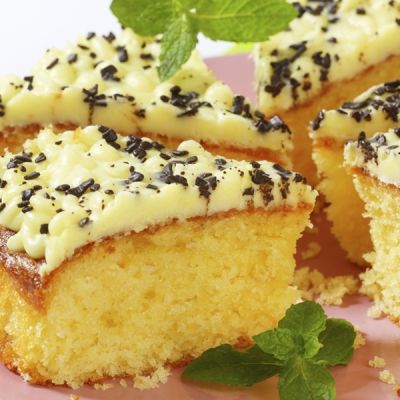 A very yummy recipe for lemon cake with a creamy frosting and sprinkles.
Ingredients
Cake
1/2 cup butter, softened
1/2 cup granulated sugar
2 eggs
Finely grated rind of 1/2 lemon
1 Tablespoon lemon juice
1 cup all purpose flour
1 teaspoon baking powder
Frosting
1/3 cup cream cheese, at room temperature
3 tablespoons butter, at room temperature
1 cup confectioners sugar
2 Tablespoons lemon juice
1/2 teaspoon lemon extract
Directions
Preheat oven to 350 degrees F. Grease an 8" round cake tin.
Beat the butter and sugar together in a bowl until pale and creamy. Add the eggs one by one, beat well after each addition stir in the lemon rind and lemon juice.
beat in the flour and baking powder on low speed until smooth.
Transfer batter to prepared tin.
Bake for 25-30 minutes until golden brown and a tester poked in the center comes out clean.
Remove from oven and let cool in pan for 5 minutes, remove to a wire rack to cool completely.
To make the frosting. In a small bowl, add cream cheese, butter, sugar, lemon juice, and lemon extract. Beat with electric beater until smooth and creamy.
Frost cooled cake and top with sprinkles