Lemon Cheesecake Squares Recipe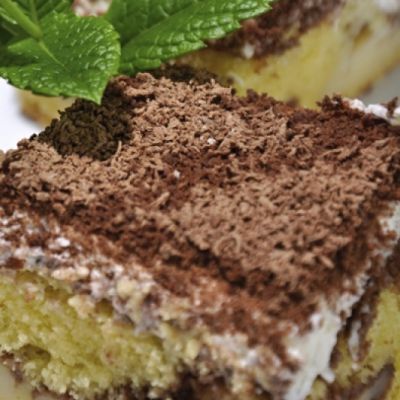 This lemon cheesecake square recipes is made up of three layers. The bottom crust is made from vanilla wafer cookie crumbs, the middle layer is a lemon flavored cake, and the top layer is a cheesecake with a hint of lemon flavoring. Top it all with a dusting of grated chocolate and this is a very lovely dessert.
Ingredients
Makes (1) 8 or 9 inch springform pan
Crust
1/4 cup butter, melted
3 cups vanilla wafer cookie crumbs
2 Tablespoons granulated sugar
Lemon Cake Layer
1 cup all purpose flour
1 cup granulated sugar
1 teaspoon baking powder
1/2 teaspoon salt
1 large egg
1/2 cup buttermilk
1/2 cup butter, at room temperature
1 teaspoon grated lemon zest
1/8 cup freshly squeezed lemon juice
1/8 cup lemon-lime soda
1/2 teaspoon pure vanilla extract
Top Cream Cheese Layer
1 (250 g) package cream cheese, at room temperature
1/2 cup granulated sugar
1 Tablespoon fresh lemon juice
2 teaspoons fresh lemon rind
1 cup heavy cream
Garnish: 1 1/2 cups finely grated chocolate +1/8 cup cocoa powder to dust
Directions
Crust
Preheat oven to 375°F.
Grease a square 8 or 9 inch square or round springform pan with butter.
Melt the butter in a small saucepan on the stovetop over low heat. Remove from heat as soon as melted.
Make the cookie crumbs by placing the wafers in a blender and pulsing until nice and fine.
In a mixing bowl, combine the cookie crumbs, melted butter and and sugar.
Press the crust mixture into the prepared pan. Place in the preheated oven and bake for 8 minutes.
Turn the oven down to 350°F.
Remove from the oven, and pour on the cake layer.
Lemon Cake Layer
In a large bowl, combine the flour, sugar, baking powder and salt.
Add egg, buttermilk, butter, lemon zest and lemon juice to flour mixture.
Use an electric mixer and beat for one minute,on medium speed until well until blended. Add lemon-lime soda and vanilla.
Beat for about a minute on low speed, just enough to blend.
Spoon the batter onto the baked crust.
With oven heat now at 350°F place into the oven and bake 20-25 minutes, or until a toothpick inserted in the center comes out with only a few moist crumbs attached.
Remove the cake from the oven and place onto cooling racks.
Once the cake is cooled to room temperature, place into the refrigerator to cool further before adding the top cream cheese layer.
Top Cream Cheese Layer
Once the cake has cooled in the refrigerator, you can make the cream cheese layer.
In a mixing bowl, use an electric mixer to beat cream cheese and sugar until smooth. Stir in the lemon juice and rind.
Using a mixing bowl that you have chilled for 15 minutes in the freezer, pour in the heavy cream. Use an electric mixer to beat the heavy cream until stiff peaks form, then fold into cream mixture.
Remove the cake from the refrigerator and spoon on the cream cheese topping.
Spread gently with a spatula.
Sprinkle on the grated chocolate and dust the cocoa powder through a sifter or sieve onto the cake.
Cool for at least 4 hours before serving.