Lemon Coconut Cheesecake Recipe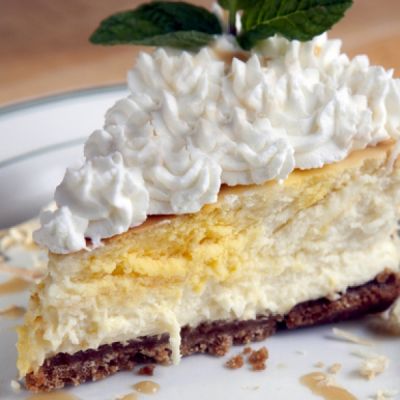 A creamy coconut cheesecake recipe with a delicious zest of lemon.
Ingredients
1 3/4 cup chocolate wafer crumbs
2 tablespoons sugar
6 tablespoons melted butter
pinch of salt
3 (8-ounce) packages cream cheese, softened
1 cup sugar
2 tablespoons flour
1 tablespoon lemon zest
1 1/2 tablespoons lime juice
1 1/2 teaspoons vanilla
3 eggs
1/2 cup flake coconut
Whipping cream
2 cups heavy whipping cream
¼ cup sugar
1 teaspoon vanilla
Directions
Preheat oven to 350F.
To make crust:
Mix together cookie cracker crumbs, 2 tablespoons sugar, melted butter, and salt.
Press into the bottom of a 9 inch baking dish. Set aside.
To make cheesecake filling:
Cream together the cream cheese, sugar, and flour until well combined. Add in lemon zest, lemon juice and vanilla and cream together until smooth. Add in the eggs, one at a time, combining completely before adding the next egg. Stir in coconut flakes.
Spread over graham crust crust mixture.
Bake for about 30 to 45 minutes. Let cool on wire rack and refrigerate.
Prepare whipping cream:
Add sugar and heavy whipping cream to large bowl. Whisk with an electric mixer just until stiff peaks form. Add vanilla and whisk just until combined.
Spread whipped cream on top of cheesecake. Refrigerate until ready to serve.