Lemon Crumble Squares Recipe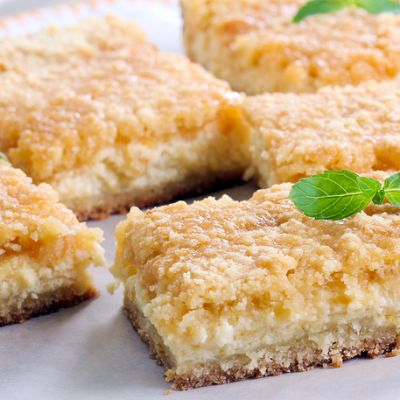 Lemon desserts rank highly. Perhaps it is because each bite offers a creamy texture and zesty light flavor.
Ingredients
1 stick (1/2 cup) butter, at room temperature
1 cup brown sugar (lightly packed)
1 1/3 cup all purpose flour
1/2 teaspoons salt
1 teaspoon baking powder
1 cup rolled oats
1 can (14 oz) sweetened condensed milk
1/2 cups lemon juice
zest of one lemon
Directions
Preheat the oven to 350F.
Lightly grease an 9x9-inch pan with butter.
Place the butter and brown sugar together in a mixing bowl and mix together with and electric mixer until until well blended.
In another bowl stir together the flour, salt, baking powder and rolled oats. Add to the butter mixture and mix to combine. Just mix enough to form a crumb mixture.
Transfer half of the mixture onto the bottom of the prepared pan and press down.
In a small bowl, stir together the condensed milk, lemon juice and zest. Spread this mixture onto the first layer of crust.
Sprinkle the remaining flour mixture on top. Don't pat it down, just spread on loosely.
Place into the preheated oven and bake for 20-25 minutes or until golden brown.
Remove to a cooling rack and let sit 30 minutes then cut into squares and refrigerate for at least 2 hours before serving.