Lemon Cupcake Recipe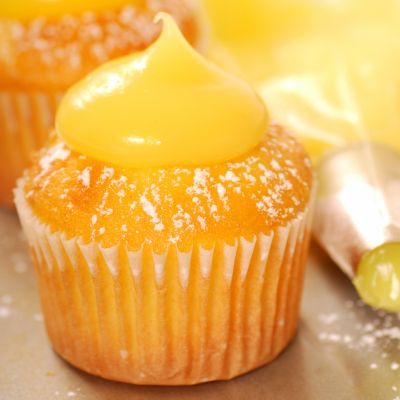 This lemon cupcake recipe makes a citrus flavored cupcake with a creamy homemade lemon curd. Lemon lovers will love.
Ingredients
Makes 24 cupcakes
Lemon Curd
2-4 lemons, depending on size for:
1/8 cup fresh lemon zest
+ 1/3 cup freshly squeezed lemon juice
4 egg yolks
1/2 cup granulated sugar
1/8 teaspoon salt
4 egg yolks
6 Tablespoons butter (3/4 stick), cut
into 6 pieces , at room temperature
(Makes about 1 1/2 cups)
Cupcakes
2 1/3 cups all purpose flour
1 1/2 teaspoons baking powder
1/2 teaspoon baking soda
1/4 teaspoon salt
1 cup butter, at room temperature
2 cups granulated sugar
4 eggs
1 cup buttermilk (or soured milk just add 1 Tablespoon lemon juice to 1 cup milk )
2 teaspoons finely shredded lemon peel
2 Tablespoons lemon juice
Garnish with a dusting of confectionersí sugar.
Directions
Lemon Curd
Select a sauce pan that can hold a heat proof bowl . Put about 2 inches of water in the saucepan. Bring it to the boil, then turn it down to simmer.
Wash and zest your lemons to make 1/8 cup of zest. Squeeze the juice from the lemons to measure out 1/3 cup lemon juice.
In the heat proof bowl, combine the lemon zest, juice, sugar and salt and stir together.
Separate the egg yolks from the whites. You only need the yolks for this recipe. Whisk the egg yolks into the lemon, sugar mixture.
Place the heat proof bowl with ingredients already in it into the sauce pan with the heated water.
Let this cook for about 7-10 minutes, whisking while it is cooking. Once the mixture thickens you can remove it from the hot water pot.
Whisk in the butter pieces, one at a time until all the butter is in the curd.
Your curd can now be transferred to a container with a lid.
If you do not like the texture of the zest in the curd, you can put the curd through a strainer to remove it.
Let cool to room temperature then place the curd into the refrigerator to cool completely before piping onto the cupcakes.
Once the curd has cooled, fill a piping bag.
Cupcakes
Preheat oven to 350ňöF.
Line (24) 2 1/2-inch muffin cups with paper liners.
In a bowl, stir together the flour, baking powder, soda, and salt. Set aside.
In a large mixing bowl beat the butter, using an electric mixer at medium speed, until creamy. Add sugar and mix in.
Add the eggs, one at a time, beating each one in.
Alternately beat in the flour mixture and buttermilk.
Beat on low speed after each addition, mixing just until combined.
Stir in lemon peel and lemon juice. Divide cupcake batter evenly among prepared muffin cups.
Place into the preheated oven and bake for 15 to 18 minutes or until a toothpick inserted in the center of the cupcake comes out clean.
Remove from the oven to cooling racks. Cool in the muffin pans for 5 minutes, then remove the cupcakes and cool on wire racks.
Using a melon scoop and scoop out a small bit of the top of the cupcake. Pipe the lemon curd in and onto each cupcake.
Dust with confectionersí sugar.
Any leftovers should be kept refrigerated in a sealed container.