Lemon Garlic Skewered Shrimp Recipe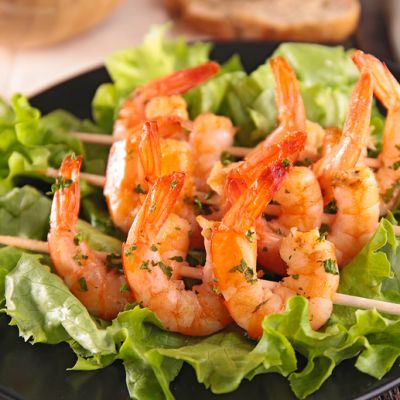 The great thing about this recipe is you can either cook the shrimp in the oven or on the grill. Easy and quick either way and very delicious with the lemon garlic butter sauce.
Ingredients
1 1/2 pounds medium shrimp, peeled and deveined
4 lemons, thinly sliced and halved
Kosher salt and freshly ground black pepper, to taste
1/4 cup butter, melted
1/4 cup freshly squeezed lemon juice
4 cloves garlic, minced
1/2 teaspoon dried oregano
1/2 teaspoon dried thyme
1/2 teaspoon dried basil
2 Tablespoons chopped fresh parsley leaves
Directions
Preheat the oven to 450F.
Line a baking sheet with parchment paper and lightly grease with olive oil. (Or you can do directly onto the baking sheet)
Thread the prepared shrimp onto skewers and place them onto the prepared baking sheet.
Place into the preheated oven and bake for 5-7 minutes or until they are cooked through, firm and pink in color. When ready remove from the oven.
Meanwhile melt the butter in a saucepan and stir in the lemon juice, garlic, oregano thyme and basil and cook 2-4 minutes until fragrant. Turn off and set aside.
Transfer the cooked shrimp skewers to a serving dish and brush with the butter mixture. Garnish with the chopped parsley and serve.
Note: You can also cook these on a grill over medium heat at 3-4 minutes per side and do the butter mixture as above.