Lemon Pound Cake Recipe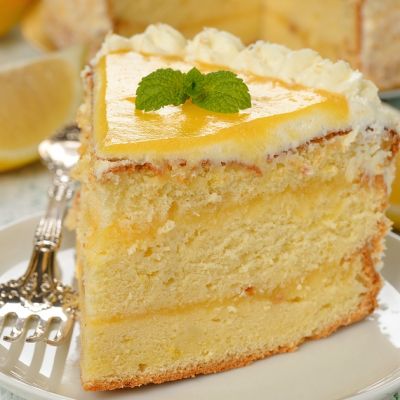 This lemon pound cake recipe is for the lemon lover. Lemon cake, curd, frosing and glaze. A tangy, delightful cake.
Ingredients
Lemon Cake
5 eggs, separated
1/4 cup (1/2 stick) unsalted butter, melted and cooled
1/2 cup milk
1 lemon, juice from
1 1/2 teaspoon vanilla extract
1 1/2 cups all-purpose flour
1 1/4 cups granulated sugar
2 1/2 teaspoon baking powder
1/4 teaspoon salt
Lemon Curd
1/4 cup fresh lemon zest (3 large lemons)
1/3 cup freshly squeezed lemon juice
1/2 cup granulated sugar
1/8 teaspoon salt
4 egg yolks
6 Tablespoons butter (3/4 stick), cut into 6 pieces , at room temperature
(Makes about 1 1/2 cups)
Lemon Buttercream Frosting
1/3 cup butter, room temperature
2 cups confectioners sugar
3 Tablespoons heavy cream
1-1/4 teaspoon vanilla extract
1 teaspoon lemon extract
Lemon Glaze
2 eggs
1 cup granulated sugar
1/4 cup lemon juice
2 tablespoons grated lemon peel
6 tablespoons butter, melted
1 to 2 drops yellow food coloring (optional)
Serves 6 - 8
Directions
Cake
Preheat oven to 350F.
Grease and flour 3 - 8 inch round cake pans with butter.
In a bowl beat together egg yolks, butter, milk, vanilla, and lemon juice. Set aside.
In a large bowl whisk together flour, 1 cup of sugar, baking powder, and salt. Add egg yolk mixture and mix till well incorporated. Set aside
Whip egg whites to soft peaks. Add 1/4 cup sugar, 1 tablespoon at a time and whip after each addition.
Add 1/3 of egg whites, to egg yolk mixture and stir in until well combined. Fold in the rest of egg whites.
Pour into prepared pans and bake for 20 - 25 minutes or until an inserted toothpick comes out clean. Set to cool, once cool enough to touch turn out of pans and let cool completely on a wire rack.
Lemon Curd
Zest your lemons.
Squeeze the lemons.
Separate the egg yolks from the whites. You only need the yolks for this recipe.
In a heat proof bowl, combine the lemon zest, juice, sugar and salt and stir together.
Select a pan to fit the heat proof bowl and put about two inches of water in it. Bring it to the boil, then turn it down to simmer.
Put the heat proof bowl with ingredients already in it into the pot with the heated water.
Whisk in the egg yolks.
Let this cook for about 7-10 minutes, whisking while it is cooking. Once the mixture thickens you can remove it from the hot water pot.
Whisk in the butter pieces, one at a time until all the butter is in the curd. Strain the curd through a strainer to remove the zest pieces.
Keep the lemon curd refrigerated.
Lemon Buttercream Frosting
In a mixing bowl using an electric mixer, beat the butter, sugar, cream, vanilla and lemon extract until light and fluffy (about 10 minutes).
Lemon Glaze
In a small heavy saucepan, whisk the eggs, sugar, lemon juice and peel until blended.
Add butter; cook, whisking constantly, until mixture is thickened and coats the back of a metal spoon.
Add food coloring if desired.
Transfer to a small bowl; cool for 10 minutes.
Cover and refrigerate until chilled.
Spread over cooled frosted cake and refrigerate before serving.
Assembly
Spread lemon curd in between layers of cake. Spread lemon frosting on sides and on top. Pipe a border around top edge of cake. Place cake in refrigerator for about 30 minutes. Pour chilled lemon glaze and spread on top of cake. Serve and enjoy.