Light And Lovely Lemon Bars Recipe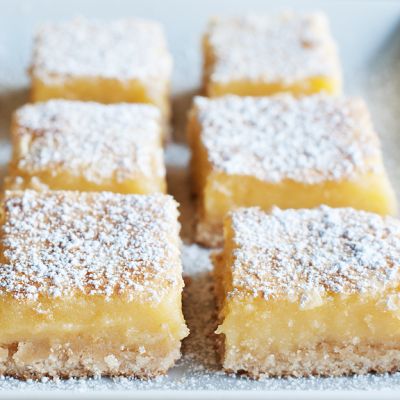 These light and lovely lemon bars are very easy to assemble and offer a tart and tangy dessert.
Ingredients
Makes one 8x8-inch baking pan.
Crust:
1 1/4 cups all purpose flour
1/4 cup confectioners' sugar
1/2 teaspoon baking powder
1/2 cup butter, at room temperature
Filling:
1 cup granulated sugar
2 Tablespoons all purpose flour
1/2 cup lemon juice
2 eggs
1/4 cup 35% cream
grated zest of 1 lemon
Confectioners'sugar for dusting.
Directions
Crust
Preheat the oven to 350F.
Line an 8x8-inch baking pan with parchment paper and leave the sides long enough to drape over the sides. (This will make for easier removal of the lemon bars later.)
In a mixing bowl stir together the flour, sugar, baking powder and butter with a wooden spoon, then use your hands until a dough begins to form. Transfer to the lined pan and press down with your fingertips to form the crust.
Place into the preheated oven and bake for 20-25 minutes or until golden. Do not overbrown. Remove and set aside.
Reduce the oven heat to 300F.
Lemon Filling
In a mixing bowl, stir together the sugar and flour.
Add the lemon juice, eggs,cream and lemon zest. Use a whisk to mix until combined and smooth.
Pour the filling over the crust. The crust does not need to be cooled. Place into the oven that has been reduced to 300F. and bake for 20-25 minutes until the filling edges have set. The center will still be wobbly. Remove from the oven and set onto a cooling rack.
Once cooled to room temperature, cover the pan with a piece of plastic wrap and refrigerate for 4 hours.
Once chilled, remove from the refrigerator and gently remove from the pan using the parchment paper to lift out.
Place onto a cutting board and slice into squares. Dust with the confectioners' sugar and serve!