Light Delightful Cake Roll With Whipped Cream Recipe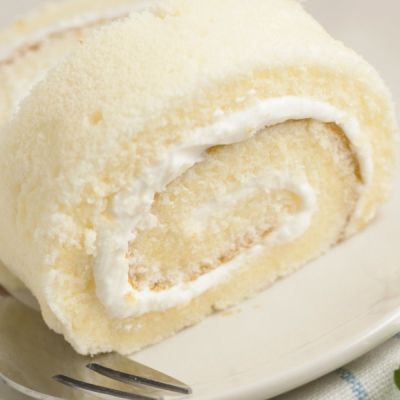 The recipe for aLight Delightful Cake Roll With Whipped Cream is delicious.
Ingredients
Sponge Cake
4 large eggs
1 large egg yolk
1/3 cup sifted cake flour
3 tablespoons (cornstarch (corn flour)
1/2 cup plus 1 tablespoon granulated white sugar (divided)
1 teaspoon pure vanilla extract
1/4 teaspoon cream of tartar (optional)
Whipped Cream Filling
1 cup heavy whipped
1/2 teaspoon pure vanilla extract
1 -2 Tablespoons granulasted white sugar
Directions
Sponge Cake
Preheat oven to 450 degrees F and place oven rack in the center of the oven.
Butter a 17x12 inch baking pan, line it with parchment paper, and then butter and flour the paper.
While the eggs are still cold separate two of the eggs, placing the yolks in one bowl and the whites in another bowl. To the yolks, add the additional yolk, and the two remaining eggs. Cover bowls with plastic wrap and allow the eggs to come to room temperature (about 30 minutes). Meanwhile, in a small bowl whisk the flour with the cornstarch.
Place the egg yolks and whole eggs, along with 1/2 cup of the sugar, in your electric mixer, fitted with the paddle attachment.
Beat on high speed for five minutes, or until thick, pale yellow, and fluffy.
Then beat in the vanilla extract. Sift half the flour mixture over the beaten egg mixture and fold in gently with a rubber spatula, just until the flour is incorporated. Sift the remaining flour mixture into the batter and fold in.
In a clean bowl, with the whisk attachment, beat the egg whites until foamy.
Add the cream of tartar and continue beating until soft peaks form.
Sprinkle in the remaining one tablespoon sugar and beat until stiff peaks form. Gently fold a little of the whites into the batter to lighten it, and then add the rest of the whites. Pour the batter into prepared pan, spreading evenly with an offset spatula or spoon.
Bake for about 6-8 minutes or until golden brown and when lightly pressed, springs back. Immediately upon removing the cake from the oven sprinkle with confectioners sugar and then invert the cake onto a clean dish towel. Remove the parchment paper, sprinkle with confectioners sugar, and roll up the sponge, with the towel. Place on a wire rack to cool.
Whipped Cream
Place your mixing bowl and whisk attachment in the freezer for 15 minutes. Then place the whipping cream, vanilla extract, and sugar into the bowl and beat until stiff peaks form.
To Assemble: Unroll the sponge, spread with the cream and reroll. Cover and chill in the refrigerator for a few hours.