Little Strawberry Streudals Recipe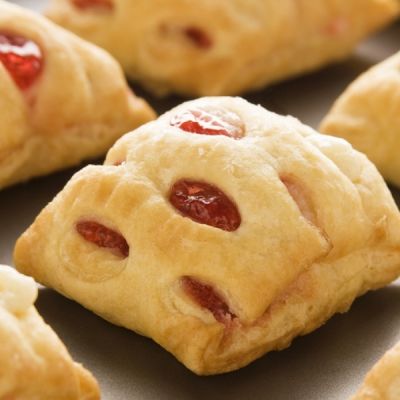 This recipe for Little Strawberry Streudals uses already prepared sheet puff pastry, so are quick to put together.
Ingredients
1 sheet puff pastry, thawed
good strawberry preserves or preserves of your choice
water
Directions
Preheat oven to 400 degrees F.
With the puff pastry still folded in thirds, roll out on a lightly floured surface to about a 15 inch by 10 inch rectangle.
Cut into 10 squares about equal in size.
Put about 2 tbsp of preserves in the middle of a square.
Brush the outside of the pastry with water and top with another square.
Crimp the edges closed with your fingers. Place the streudals on a baking sheet.
Make little slits with a knife on the tops of each one.
Bake for 20 minutes. Serve warm.