Liver And Onions With Gravy Recipe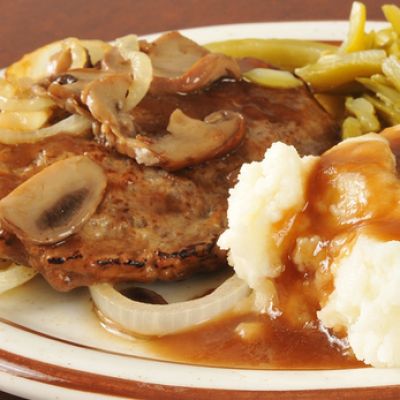 Here is an old time classic. Liver and onions with gravy and in this recipe we included mushrooms. This meal should be served with mashed potatoes.
Ingredients
2 Tablespoons vegetable or olive oil
1 medium sized onion, sliced
6 medium sized mushrooms, sliced *Optional
1 cup all purpose flour
4-6 slices liver
1 can onion soup
OR 1 package onion soup mix, in 1 cup water
1 Tablespoon all purpose flour
salt and pepper, to taste
Serves 4-6
Directions
Heat the olive oil in a large heavy bottom skillet over medium heat. Add the onions and cook until transparent and soft.
Add the mushrooms and cook 3-4 minutes longer.
Use a slotted spoon to remove the onions and mushrooms to a plate.
Next, put the flour into a shallow plate and coat the liver pieces on both sides.
Quickly sear the liver on both sides to brown.
Add the can of onion soup to the skillet,
OR the package of onion soup mix diluted in 1 cup of water.
Cook over medium heat until the liver is cooked through and tender.
Remove the liver from the skillet.
Add the tablespoon of flour to the juices, whisking in to combine and turn to high heat.
Bring to a boil for 2 minutes to thicken.
Season with salt and pepper to taste.
If the juices are not thickening enough, just add a little bit of extra flour.
Use a whisk to stir the flour into the liquid to remove any lumps. Shut off.
Transfer the cooked liver, onions and mushrooms back into the skillet to coat it all with gravy. Turn the heat onto medium heat and heat for 2 minutes, just to make sure everything is heated through.
Delicious served with mashed potatoes.