Macaroni Asparagus Sundried Tomato Casserole Recipe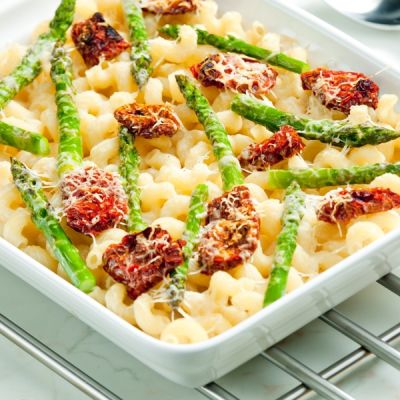 A warm and hearty recipe for macaroni asparagus sundried tomato casserole. Great served with a salad.
Ingredients
2 cups macaroni noodles
1 cup cream
1 cup milk
2 Tablespoons butter
3 Tablespoons all purpose flour
1 clove garlic, crushed
2/3 cup parmesan cheese, grated
12 stalks agparagus,
1/3 cup sundried tomatoes.
Directions
In a large pot of boiling water, cook pasta according to package directions.
Steam asparagus for 5 minutes.
In a small saucepan, melt butter, add garlic, stirring to blend over medium-low heat. Stir in cream, milk and flour, heat until thickened. stir in 1/3 cup cheese
Combine sauce with pasta and pour into a casserole dish. top with steamed asparagus and sundried tomatoes, sprinkle remaining cheese over top.