Mango Lemon Bars Recipe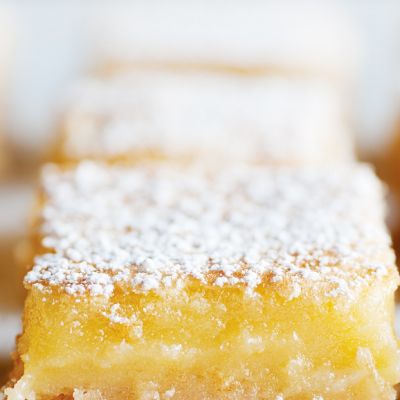 This recipe for mango lemon bars is a delicious combination of sweet and zesty. If you love pastry, you will love this dessert.
Ingredients
Crust
1 3/4 cup all-purpose flour
2/3 cup confectioners' sugar
1/4 cup cornstarch
1/2 teaspoon fine sea salt
1 tsp finely grated lemon zest
1 vanilla bean, split and seeded
3/4 cup (1 1/2 sticks) unsalted butter, cubed and chilled
Filling
6 large Eggs
1 1/3 cups granulated sugar
1 1/3 cups mango puree
1/3 cup freshly squeezed lemon juice
1/2 cup all purpose flour
Directions
Crust
Preheat the oven to 350 degrees F. Line a 9" x 13" pan with parchment paper.
Combine flour, sugar, cornstarch, salt, lemon zest and vanilla beans in food processor and pulse.
Add cubes of cold butter and pulse to incorporate.
Press dough into the pan and bake for about 20 minutes.
Reduce oven heat to 325 degrees F.
Filling
To make filling, combine eggs, sugar, mango and lemon juice in a large mixing bowl.
Sift flour over the top and then whisk to combine.
Pour over baked crust and then bake for 25-30 minutes or until center is slightly jiggly, but mostly set.
Set pan on wire rack to cool completely and then cut into bars and refrigerate.
Serve with confectioners' sugar sprinkled on top.