Maple Layer Cake Recipe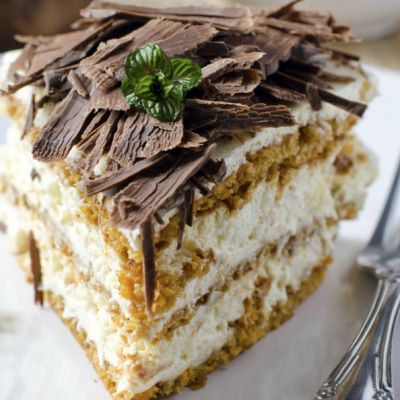 This delicious maple layer cake recipe cake is surprisingly light. Makes a great finish to a weekend dinner party meal.
Ingredients
1/2 cup butter, softened
1/2 cup packed brown sugar
1/2 cup all purpose flour
1/2 cup graham cracker crumbs
3 large eggs, beaten
1 teaspoon baking powder
2 Tablespoons whole milk
2 Tablespoons maple syrup
Frosting and Filling
1/4 cup butter
1/4 cup packed brown sugar
2 Tablespoons maple syrup
2 Tablespoons whole milk
2 Tablespoons maple extract
1/2 cup icing sugar
Shaved dark chocolate, for decoration
Directions
Cake
Pre-heat oven to 350F.
Grease and flour two 8" (20cms) round cake tins.
In a large bowl, beat the butter and sugar together until light and fluffy, about 5 minutes using a hand-held mixer.
In a separate bowl, combine flour, graham cracker crumbs and baking powder.
Add eggs, milk and maple syrup to the butter and sugar and gently mix until smooth.
Slowly add the flour mixture to the wet ingredients, and blend thoroughly.
Pour the cake mixture evenly into the prepared cake tins and bake for about 30 minutes, until fork stuck in the centre comes out clean.
Remove and let cool at least 30 minutes.
Frosting
Place all of the ingredients together in large mixing bowl and beat thoroughly.
Finishing cake
When fully cooled, cut each cake in half to make a multi layer cake.
Spread some of the frosting on top of each cake layer and then place the other cake layer on top, spreading icing on top of that.
Decorate the top of the cake with chocolate shavings.
Serve cut into about 8 to 10 slices.