Maple Walnut Cake Recipe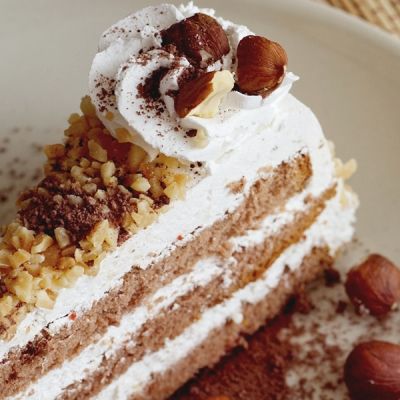 A flavorful Maple Walnut Cake Recipe with a Sturdy Whipped Cream Frosting. Great for any occasion.
Ingredients
Cake
3 1/2 cups all purpose flour
4 teaspoons baking powder
3/4 teaspoon salt
3/4 cup butter, at room temperature
1/2 cup dark brown sugar, packed
2 eggs
1 1/2 cups pure maple syrup
3/4 cup milk
Sturdy Whipped Cream Frosting
8 ounces cream cheese, at room temperature
1/2 cup granulated sugar
1 1/2 teaspoons pure vanilla extract
2 cups heavy cream
(Makes 5 cups of frosting)
Garnish
1 cup chopped walnut pieces
Optional: Whole hazelnuts
cinnamon powder
Directions
Cake
Preheat oven to 350 degrees F.
Prepare three 9-inch pans, grease with butter on bottom and up the sides, line with parchment paper, butter the parchment paper and dust with flour.
In a medium sized bowl stir together the flour, baking powder, and salt.
In a large bowl, using an electric mixer on medium to high speed, beat the butter and brown sugar until light and fluffy.
Add the eggs, one at a time and beat in. Scrape down the sides of the bowl with a spatula as needed.
Next add the maple syrup by pouring it in a steady stream and beating on medium speed.
Add the flour and milk, alternately beating well and scraping down the bowl as needed.
Divide the cake into the three prepared cake pans and bang the pans down on a flat surface a few times to remove any air bubbles.
Place the cake pans onto the center rack and bake for 25-30 minutes or until a toothpick inserted in the center comes out clean.
Remove when baked and put the cakes on cooling racks for about 15 minutes to cool, then invert the cakes onto the racks and peel off the parchment paper. Invert the cakes again and let them cool completely.
Sturdy Whipped Cream Frosting
In a large mixing bowl, combine the cream cheese, sugar, vanilla extract.
Beat on medium speed until smooth. While the mixture is still whipping, slowly pour in the heavy cream.
Stop and scrape the bottom of the bowl a couple of times while you continue whipping until the cream forms stiff peaks.
Put some of the frosting into a piping bag if you plan to garnish as in the photo shown.
Divide the remaining frosting into 3 portions, 2 for the filler and a larger portion for the top and sides.
Assembly
On you cake plate, place the first layer of cake and spread on the frosting
Repeat the process until you have the three layers placed and frost the top and outside of the cake.
Sprinkle the walnut pieces into the center area of the cake.
Pipe dollops of frosting around the outside top of the cake. Garnish with hazelnuts and sprinkle on a little cinnamon.