Maple Walnut Cheesecake Recipe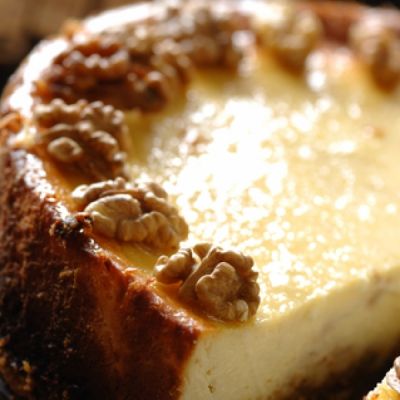 A Delicious recipe for maple walnut cheesecake. A great diner party dessert.
Ingredients
2 cups Maple Cookies, finely crushed
1/4 cup finely chopped walnuts
1/3 cup butter, melted
3 pkg. Brick Cream Cheese, softened
3/4 cup maple syrup, divided
3 eggs
1/4 cup. walnut halves
Directions
Preheat oven to 350 degrees F.
Mix together cookie crumbs, walnut crumbs and butter; press onto a springform pan.
Beat cream cheese and syrup until blended. Add eggs until just blended. Pour over crust.
Bake 45-50 min. Cool completely before removing rim. Refrigerate until ready to serve.
Arrange walnut halves around cheesecake before serving.