Marble Cake With Strawberry Glaze Recipe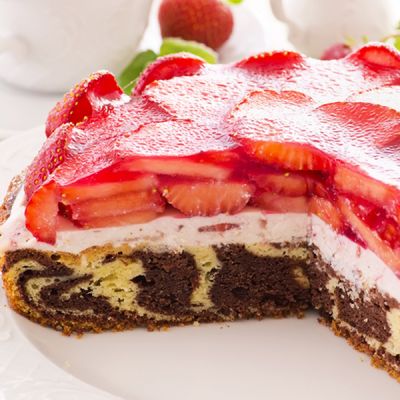 A fancy looking marble cake recipe, which is in fact very easy to prepare.
Ingredients
Cake:
1/2 cup butter, softened
5/8 cup caster sugar
2 eggs
1/2 tsp. vanilla essence
1 cup + 1 tbsp plain flour
1/2 tsp. baking powder
1/4 cup milk, as required
2 tbsp cocoa powder
Topping:
1/2 cup heavy cream, whipped
2 cups fresh strawberries, sliced
1/2 cup sugar
2 tbsp corn starch (or arrowroot powder)
1/2 cup water
Directions
Preheat oven to 350F (180C).
Grease & line a 7" to 8" round tin with baking paper.
In a large bowl, beat butter until smooth ( for 2 - 3 min.)
Add the sugar and beat until light and creamy.
Add the eggs one at a time, beating well after each addition.
Beat in the vanilla.
Sift the flour and baking powder in a bowl.
Now fold the flour mixture in the butter mixture.
Add ( 2 tbsp. ) milk and mix until well combined.
Combine cocoa powder with remaining milk in a small bowl.
Divide cake mixture in half and stir cocoa mixture into one half, keeping other half plain.
Spoon mixture alternately into prepared tin.
Spread the plain batter at bottom & top, dark in between, and then make zigzags with a knife.
Bake for 30 - 40 minutes or until a knife inserted into the center comes out clean.
Transfer the cake to a wire rack and let it cool for 5 minutes.
In the meanwhile, prepare your topping.
Whip 1/2 cup heavy cream until peaks form. Do not overbeat.
Prepare glaze by cook sugar, cornstarch and water together until the sauce is transparent and thickened.
Remove the cake from the tin and allow to cool.
Spread whipping cream over cool cake.
Top with sliced strawberries in 2-3 layers.
Drizzle with glaze and allow to set in fridge for 30 minutes before cutting and serving.