Marble Pudding Parfait Recipe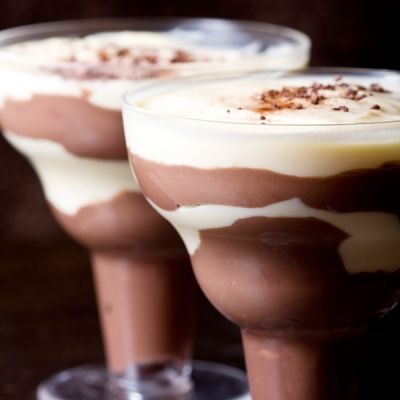 A simple recipe for yummy marble pudding parfait.
Ingredients
Chocolate pudding
4 ounces bittersweet chocolate, chopped fine
3 Tablespoons cocoa powder
3 Tablespoons cornstarch
1/4 teaspoon salt
1 cup heavy cream
3 large egg yolks
2 1/2 cups milk
1/2 cup granulated sugar
1 teaspoon vanilla extract
Vanilla pudding
1/3 cup granulated sugar
2 Tablespoons cornstarch
1/4 teaspoon salt
2 1/4 cups whole milk
3 large egg yolks, lightly beaten
3 Tablespoons unsalted butter, cut into small pieces
2 teaspoons vanilla extract
Directions
For the Chocolate pudding. In a large heatproof bowl, whisk together the cocoa powder, cornstarch, and salt. Slowly whisk in the cream and eggs.
In a large saucepan. Add the milk and sugar, heat to a simmer stirring frequently, until the sugar is dissolved.
Pour half of the hot milk into the bowl of cream and egg yolks. Whisk until well-combined, then pour everything back into the pot.
Bring the pudding to a low boil, cook for 2 minutes, whisking constantly.
Remove the pudding from the heat and stir in the vanilla. Then add the chopped chocolate and let sit for 1 to 2 minutes or until melted. Whisk until the chocolate is fully incorporated.
Pour half of the chocolate pudding into 6 parfait glasses, let cool.
To make the vanilla pudding, In a second large saucepan combine the sugar, cornstarch, and salt. while constantly whisking, slowly drizzle in 1/4 cup of the milk until smooth. Whisk in the egg yolks and remaining milk.
Place the saucepan over medium heat and cook, whisking often, until the pudding begins to thicken and just starts to bubble, about 5 to 6 minutes. Reduce the heat to medium low and stir constantly, scraping the bottom and sides of the pan, 3 to 5 minutes.
Remove from the heat and stir in the butter and vanilla extract until the butter is melted and completely incorporated.
Gently pour vanilla over chocolate pudding then top with the remaining chocolate pudding. Chill in the refrigerator until set, about 2 hours.
To serve dust with cocoa powder.