Marinated Carrots Recipe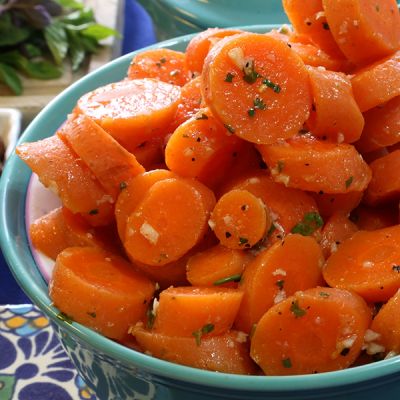 This marinated carrot recipe was inspired from the restaurants in the Algarve in Portugal. It is the best way I have ever eaten carrots.
Ingredients
5-6 carrots
2 Tablespoons chopped fresh cilantro
2 cloves garlic, minced very very fine
3 Tablespoons olive oil
1 Tablespoon white wine vinegar
salt & pepper
Directions
Bring a medium pot of water to boil with 1 teaspoon of salt.
Wash and peel carrots.
Slice them and boil them in salted water until tender. Do not overcook.
Meanwhile finely mince the garlic and cilantro and mix together with the oil and vinegar. These need to be ready as soon as the carrots are cooked.
Drain the carrots and immediately add the garlic, oil and vinegar while they are still boiling hot so that the garlic can cook a little in the heat.
Add salt, pepper to taste and mix everything together really well. Leave to cool. You can give them a good stir while they are cooling to make sure the carrots absorb plenty of the oil & vinegar.
Serve warm or slightly cool.