Marinated Lamb Kebab Recipe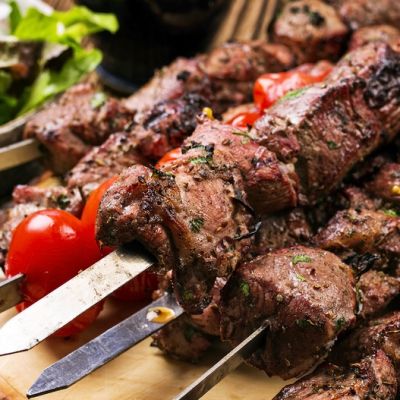 This marinated lamb kebab is cooked on the barbecue.
Ingredients
3/4 lb well-trimmed boneless leg of lamb, cut into 2-inch cubes
1/4 cup low-fat plain yogurt
1 garlic clove, minced
15 grape or cherry tomatoes
1 Tablespoon extra virgin olive oil, plus extra for grill
1 pinch salt & freshly ground black pepper
1 Tablespoon freshly chopped oregano
metal skewer or wooden skewer (if wooden, soak in water for 30 minutes)
(Makes 2 servings)
Directions
Place lamb in a large mixing bowl and season liberally with salt and pepper.
Add yogurt and garlic and toss to coat. Cover with plastic wrap and let stand at room temperature for 15 minutes.
Heat grill or grilling pan to medium-high heat.
In a mixing bowl, toss the tomatoes with oil, salt, pepper and oregano. Skewer the tomatoes and grill for about 15 minutes, turning occasionally.
Remove tomatoes from skewers and skewer the lamb cubes. Grill the lamb cubes for 4-5 minutes on each side for medium-rare, or slightly longer for medium.
Serve hot with grilled tomatoes.