Meat Lasagna Recipe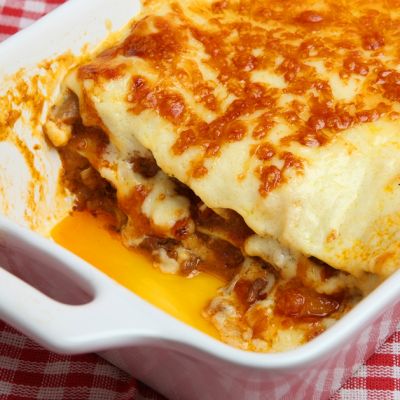 This meat lasagna recipe is is for those people that do not want spinach or ricotta cheese or mushrooms in their lasagna. This has simple ingredients and most children will love the simplicity of the flavors in this lasagna.
Ingredients
1 (9 ounce) box no boil lasagna noodles
1 Tablespoon olive oil
1 small onion, finely chopped
2 garlic cloves, minced
1 lb lean ground beef
1/2 teaspoon salt
1/2 teaspoon fresh ground pepper
1 teaspoon oregano flakes
1 (14 1/2 ounce) can diced tomatoes
1 (24 ounce) jar Italian flavored spaghetti sauce
1 (6 ounce) can tomato paste
3 cups shredded mozzarella cheese
1 cup grated parmesan cheese
3 -5 dashes garlic salt, to taste
Directions
Preheat the oven to 375 degrees F.
Have ready a 9x13 inch baking dish.
Heat the oil in a large deep skillet on the stovetop over medium heat.
Add the onion and saute for 2 minutes. Add the minced clove and stir in.
Add the ground beef, salt, pepper and oregano flakes and cook the meat, breaking it apart so it forms a crumble texture. Cook until there is no pink showing.
Using lean meat there should not be any fat, but if there is drain the fat off.
Add the diced tomatoes, tomato sauce and tomato past to the meat and stir well to combine.
Simmer for 15 minutes over low heat, then turn off and remove from heat.
Spread a thin layer of sauce in the bottom of the pan.
Spread a layer of 3 noodles on top of the sauce.
Spread another layer of sauce.
Sprinkle on 1/2 cup mozzarella cheese and 1/2 cup parmesan cheese.
Spread another layer of 3 noodles.
Spread on the rest of the sauce.
Sprinkle on 1/2 cup mozzarella cheese and 1/2 cup parmesan cheese.
Spread the final layer of 3 noodles.
Sprinke on the final 2 cups of mozzarella cheese.
Cover the baking dish with aluminum foil and place into the preheated oven.
Bake for 40 minutes.
Remove the foil and bake 5 more minutes to lightly brown the cheese.
Remove from the oven and place on a rack.
Let the lasagna set for 20 minutes before cutting into it.