Meatloaf With Gravy Recipe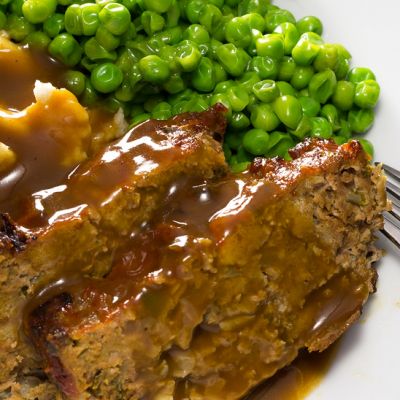 This delicious meatloaf with gravy recipe is easy to prepare and the gravy adds an additional juicy flavor to the meal. Great with mashed potatoes and peas.
Ingredients
Meatloaf
500 grams lean ground beef
500 grams lean ground pork
2 eggs, beaten
2 cups breadcrumbs
1 onion, chopped
3 cloves garlic, minced
1 carrot, finely chopped
1 stalk celery, finely chopped
1 teaspoon each of basil, thyme and parsley
2 Tablespoons Worchestershire sauce
1 teaspoon each of salt and pepper
Gravy
4 Tablespoons butter
2 Tablespoons flour
1 cup beef stock
1/4 cup red wine
Directions
Preheat oven to 350 F.
In large bowl, mix together all meatloaf ingredients by hand.
Shape into a greased loaf pan and bake for 1 1/2 hours.
Meanwhile, saute onions in butter over medium high heat for about 3-5 minutes, or until slightly browned.
Stir in flour, beef stock and wine.
Reduce heat and simmer for 5 minutes, stirring regularly.
Serve over slices of meatloaf.