Mexican Pasta Bake Recipe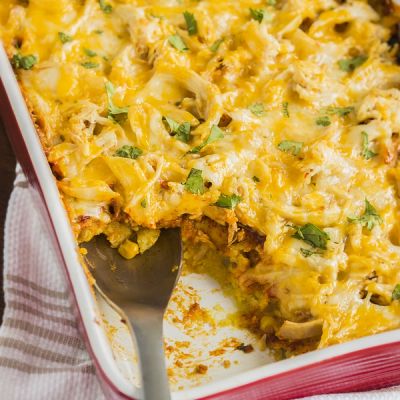 This Mexican pasta bake uses either ground chicken or turkey, pasta and corn and is seasoned to give it a light Mexican flare.
Ingredients
2 cups pasta, cooked and drained
1 Tablespoon olive oil
1 small onion, chopped
2 cups ground chicken or turkey
1/4 cup green bell pepper, diced
1/2 cup chicken broth
2 cups frozen corn
1 cup ranch salad dressing
2 cups 4-blend Mexican cheese, shredded
1 teaspoon chili powder
2 Tablespoons cilantro, chopped
Directions
Preheat the oven to 350 degrees F.
Grease a 9x13 inch baking pan.
Put the cooked wide noodles into a large mixing bowl.
Heat the olive oil in a large skillet over medium heat and saute until transparent. Add the ground turkey or chicken and cook until done, making it a crumbly texture. Add the green pepper and cook 2 minutes longer.
Add the chicken broth, corn, and ranch dressing. Bring to a boil. Add the mixture to the cooked noodles and stir together. Transfer the mixture to the prepared baking dish.
Sprinkle the cheese and chopped cilantro on top. Cover with aluminum foil and place into the preheated oven.
Cook for 25 minutes or until heated right through. Remove the foil and cook 5-7 minutes longer, until the cheese is melted and golden.