Milk Chocolate Brownie Recipe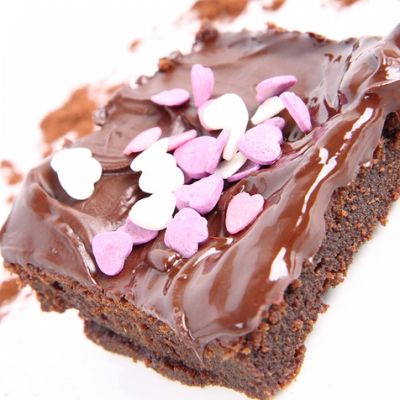 This milk chocolate brownie recipe uses milk chocolate for the brownie and for the ganache.
Ingredients
Brownies
1/2 cup margarine or butter
1 cup milk chocolate chips
3/4 cup light brown sugar
1 teaspoon vanilla extract
2 large eggs
3/4 cup all purpose flour
1 Tablespoon unsweetened cocoa powder
1/2 teaspoon salt
1/4 teaspoon baking powder
Milk Chocolate Ganache
1 cup milk chocolate chips
1 cup of whipping cream
Serves 6 - 8
Directions
Preheat oven to 350F.
Grease a 9 inch baking pan with butter.
In a medium size sauce pan, melt margarine and chocolate chips, stirring until smooth.
Remove from heat and let cool.
Add sugar and vanilla into cooled chocolate.
Mix until well incorporated.
Add eggs one at a time, and beat in after each addition. Set aside.
In a separate bowl, stir together flour, cocoa powder, salt and baking powder.
Add flour mixture into chocolate mixture and mix till well incorporated.
Pour batter into prepared pan.
Place into the preheated oven and bake for 25 to 30 minutes, or until a toothpick inserted in the center comes out clean.
Remove from oven and place on a cooling rack.
Milk Chocolate Ganache
In a double boiler or a pot filled with water and a heatproof bowl set on top, melt chocolate and cream on low heat.
Stir to combine.
Spread over cooled brownies.
Garnish with edible confetti.